Salma Hayek's Big Boobs – Are They Natural?
Introduction
The one, the only, the legend, it's Salma Hayek. She's been credited with 72 acting appearances since the start of her career in 1988, averaging out to around two and a half movies or TV shows per year. Pretty impressive stuff! If you've watched her grow up in the Hollywood industry, you'll definitely also have noticed her physical appearance changing dramatically over those years as well. Which is why we're writing this article – we're here to find out whether Salma's transformation has been all natural, or had a little help from some plastic surgery along the way. Onwards!
Before we get to the juice of the article, let's take a step back for a minute and get to know her a little better. Salma was born on September 2, 1966, as Salma Hayek Pinault. As you probably know already, she decided to simply stick with Salma Hayek for her stage name (no one knows why). Can you guess where she was born based on her accent? If you guessed Peurto Rico, you're 100% wrong! Salma was actually born in Veracruz, Mexico, where she started appearing in a few smaller movies as well as a bit of modeling here and there. She still does a bit of modeling, as you can see here, but pays more attention to her acting career these days.
She remained in Mexico until she was 25 years old when she made the move to the United States. Yep – she took a stab at worldwide fame by moving to Hollywood, and it paid off – big time! Within 10 years of arriving in the country, she had starred in more than a few international blockbusters including Desperado (1995), From Duck Till Dawn (1996), and Wild Wild West (1999). Of course, we can't leave out the one and only Dogma (1999) where she played a character called Serendipity.
As much as we'd like to keep writing out Salma's biography for her, we know you'd rather start reading more pressing matters. Such as that of whether or not she's had plastic surgery. Arguably, the most likely question you have on your mind, and possibly the one you entered into Google, is you wondering whether the expansive growth of her boobs has been natural. And we can't blame you! Her breasts have changed immensely over the years, increasing in size by what one may argue is highly likely to have been caused by going under the knife.
You'll find a range of surgery related questions discussed below, including whether she's hopped on the boob job train. A bit of a tangent, but if you're interested in seeing an absolutely outrageous case of breast augmentation, look no further than Wendy Williams – wow!
Ok – last thing! We know you already know, but if you don't, feel free to check out her Instagram account, Facebook page, or her Twitter feed for the latest pics and news on Salma. She has around 4 million followers on the three social media platforms and posts some pretty revealing pics at times.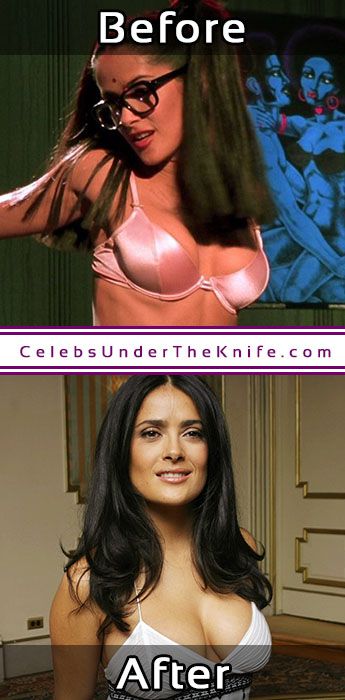 Her breasts – Are they natural?
Honestly, this may be one of the most difficult questions we've ever had to ask ourselves here. If didn't have any of the before pics, we would 100% agree Salma's breasts are completely natural. They way they're shaped, the way they're positioned, and the fact they simply don't look fake, all point fo the answer of natural growth.
But of course, we have the before pics. And the change in size which has occurred way past the natural growth period (usually 13-25 years) is simply too out of this world to believe. And after conducting a bit of research, it has indeed been confirmed – Salma has had her breasts increased with plastic surgery. We'd like to take a brief minute in time to congratulate the surgeon who's responsible – you have done a damn fine job.
She got them quite early in her career as well, which may be why most people only know her by the way she currently looks. Only the OG's amongst us remember Salma from her pre-2000 acting days.
It's been reported she first revealed her new and improved bosom to the world in the movie mentioned earlier – From Dusk Till Dawn. This would mean she went under the knife sometime around 1997-1998. Putting her at the prime age of 31 or 32 years old when she made the decision. And we're sure you'll agree, it was a good decision as well!
Her surgically enhanced breasts are, by far, the most natural looking ones we've ever come across. Period. We're not alone with this thought – In Touch magazine runs a regular segment in which they rank the 'best breasts in Hollywood' (we know, not very flattering). Can you guess where Salma ranked? Top 20? Top 10? She was sitting comfortably in the 3rd position, beaten out only by the eccentric Scarlett Johansson and Jessica Simpson.
This is not a usual piece of information we come across, as the whole process is usually kept quite secret, but there have been estimates regarding the total cost of her new boobs. TheRichest.com puts her new set of boobs at an even $10,000 investment. What do you think? If you put yourself in her shoes, would you make the same decision? Tough one…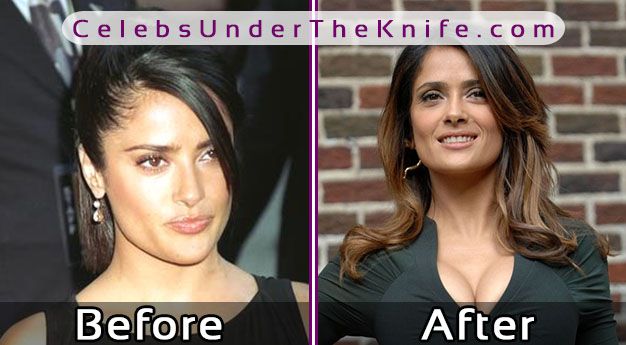 Ok – what about a nose job?
Boob job confirmed, but can a nose job be added to the list as well? Highly unlikely. From the beginning of her transformation below, back in 1993, her nose practically looks exactly same as it does 24 years later in 2017. We say practically, as there are some minor changes we can spot, but nothing major which would definitely indicate rhinoplasty.
For example, take a look at the before and after photos above. Each image presents us with a clear shot of her nose from a similar angle – allowing us to compare her nose quite effectively. Let's start with the nostrils. In the before photo, they actually seem to be smaller than in the after, which is normally the opposite of what a nose job plans to achieve. This lines up perfectly with the fact that the nose is one of the few body parts in a human which never stops growing (along with your ears!).
As well, the overall thickness of her nose (including the bridge and the base), looks to be unchanged from one side to the next.
We always say here at CelebsUnderTheKnife:
If it already looks good, why change it?
Of course, you may come back with – "Sure, it looks good, but maybe it can be improved." And we get that, which is why if Salma has actually received a nose job, we're all for it. Unfortunately, with the photo evidence we've gathered depicting her nose over the course of her career, it just doesn't seem so.
Maybe if it continues to grow, and in places where it shouldn't be growing, we'll have to come back and edit this section to include some update photos of her new and improved nose. Until then, we can confidently say she hasn't had a nose job…yet.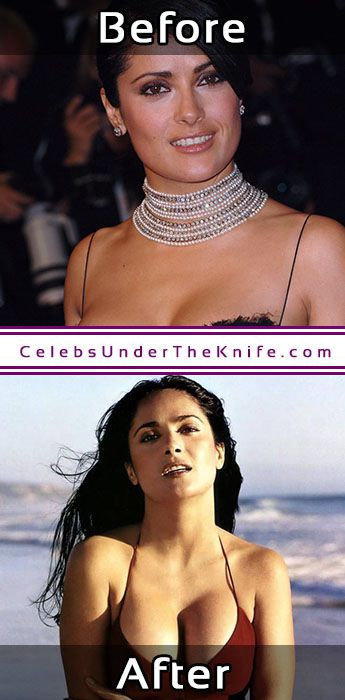 Any other surgery on her resume?
As much as we'd like to stir up some more gossip, unfortunately, the rest of Salma seems to be 100% natural. And we're pretty happy with that decision. You can't deny she's an unbelievably gorgeous woman – just about every photo in her transformation below can easily stop you in your tracks and think to yourself – "Damn….Salma is one stunning specimen." We know we did when we were putting it together.
With all that in mind, there's absolutely no way we can be 101% certain she hasn't gone under the knife for another procedure. In these modern days, technology (not only for computers) in the operating rooms has become so advanced and futuristic, people 100 years ago would think it's literally alien technology if they saw what it could do today. And how it can sometimes change a human's appearance for the better without leaving a single mark of evidence.
That's where we're at at the moment. Unless signs of plastic surgery are extremely obvious, or the celebrity has openly admitted to the media and their fans they've indeed improved their body with the help of a surgeon, it can be extremely hard to be certain one way or the other. For example – take one look at botox.
More and more sites, as well as reputable organizations around the world, are starting to agree on the fact that botox can be an extremely effective tool to not only remove wrinkles but prevent them from ever occurring in the first place. Salma just hit the big milestone of 50 years old in 2016, putting her in the prime demographic for botox treatments. Judging from her lack of wrinkles, one may not be wrong in slightly leaning over to the botox side of the equation.
What do you think? Besides her boob job, are there any other signs of cosmetic procedures? Let us know in the comments below.
Before you check out her awesome transformation, we think you'll quite enjoy taking a look at Dove Cameron's plastic surgery rumors. She's one of the few who's also potentially been injected with some preventative botox.
Salma's 24-Year Physical Transformation
We're actually quite surprised Salma's transformation is so short. Likely because she only started her acting career when she was 25 years old, quite a bit older than most women these days.
1993
The golden years – the photo of Salma here represents everything about '93 perfectly.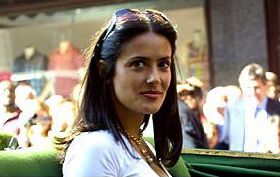 1995
Four years into acting, you can tell how much she's grown up.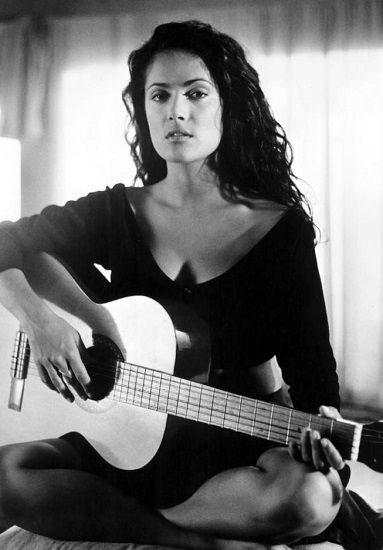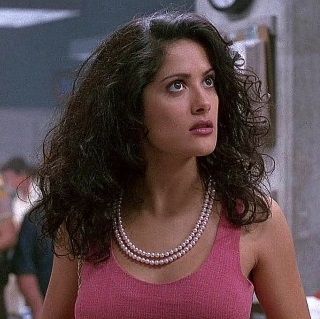 1999
Arguably her biggest year in acting – huge, timeless hits which will be watched for decades to come.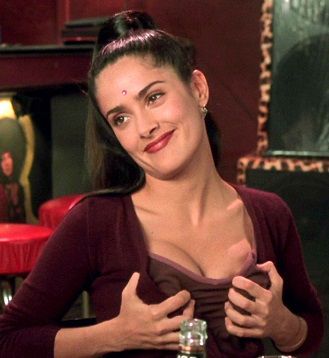 2003
The dawn of a new century, and the dawn of a new and improved Salma as well. Her new boobs in the past year definitely shot her into the world's vision.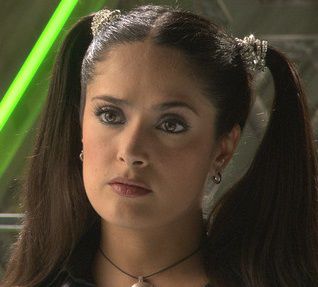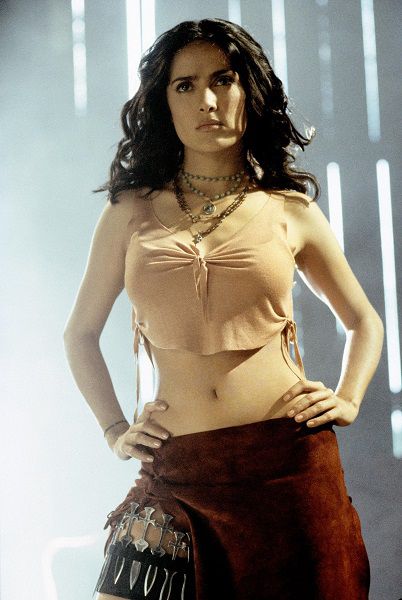 2006
Moving on to a matured Salma. She looks like she's found her niche in acting, and is quite please with herself as well.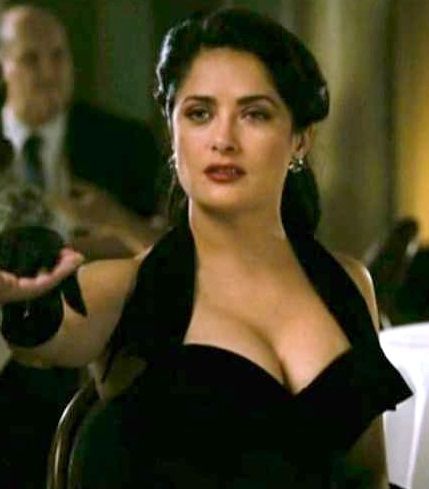 2010
Grown Ups premiere – you can see she's quite proud of all her assets here.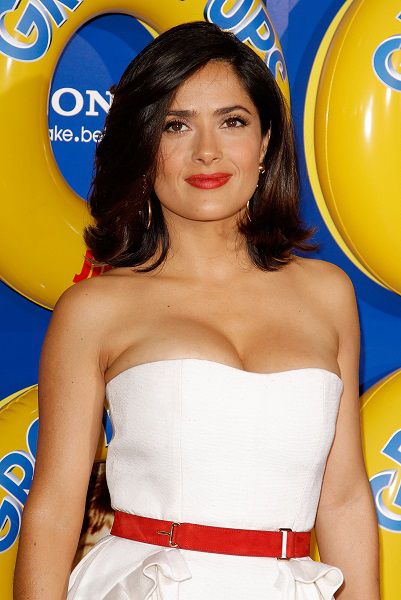 2012
Still looking as gorgeous as ever. Extremely minimal signs of aging are starting to show.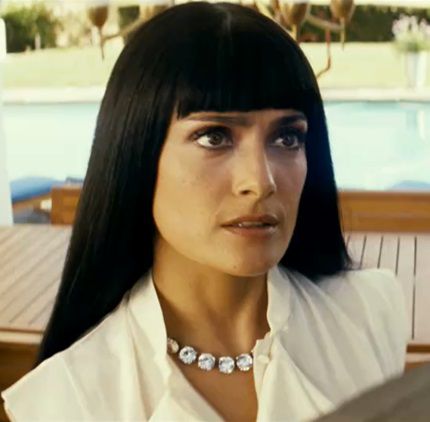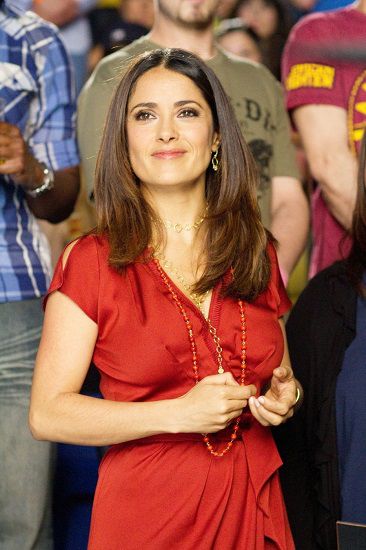 2014
Expanding her acting horizons. Never thought we'd see her holding an automatic machine gun!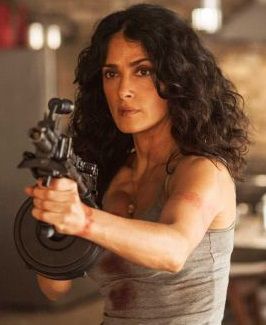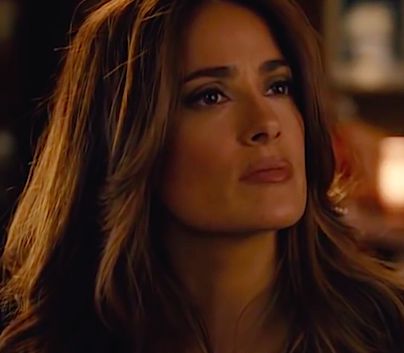 2017
We've made it. 2017 is a new year, and with it brings a new Salma. The bottom two photos were clipped directly from her personal Instagram account (link above). We'd definitely recommend following it to keep up with her latest pics.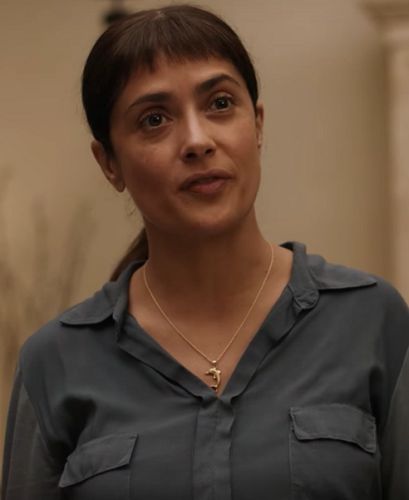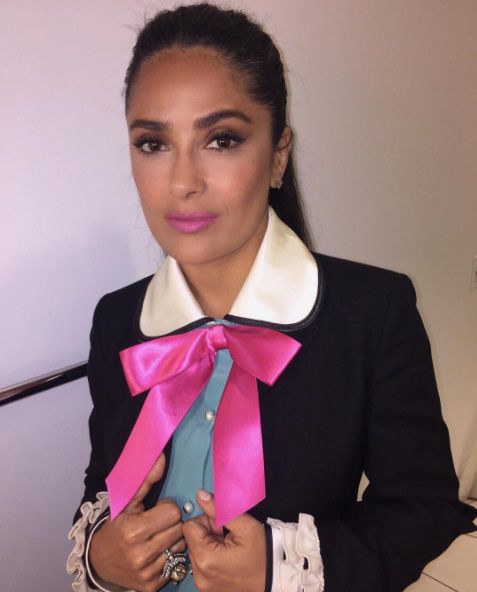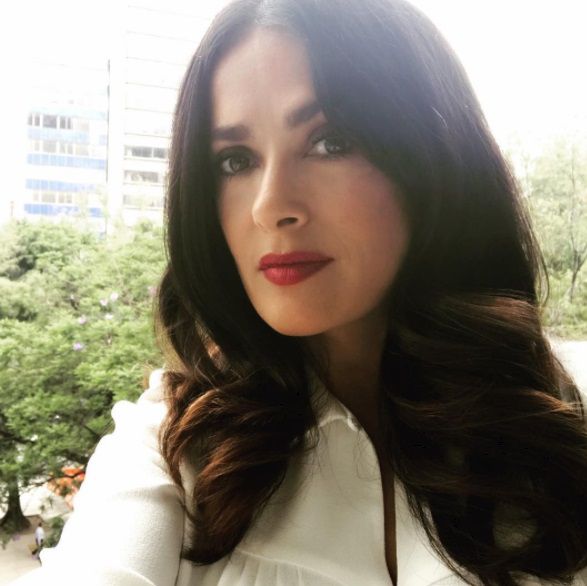 ---
Has Salma Hayek Had Plastic Surgery?
There's clear evidence of a boob job – but what do you think? Do they look better of worse? Let us know in the comments!
---
Plastic Surgery Information
The table below contains information on everything from botox to boob job! Check out the status of all Salma Hayek's plastic surgeries!