Teyana Taylor's Wonderful Nose Job – Before + After Pics
Introduction
Welcome to one of America's most famous underground rap superstars – Teyana Taylor. She's a singer, songwriter, rapper, actress, model, and plastic surgery recipient. Yep – it's been 100% confirmed, Teyana's had a nose job.
Take one look at the photo comparison above. If you can honestly say the change in her nose has not been from a surgeon's hands, we think a visit to the eye surgeon may be in order.
Take one part of her nose – the nostrils. If we wanted to, we'd get out a ruler and measure just how smaller they've gotten in the past few years. But we don't have to.
Why? Because we're lazy. But more because the size difference is so vast, it's simply not a naturally occurring phenomenon in humans. Our noses just don't change like that.
---
Photo evidence suggests Teyana has indeed had a nose job.
---
Not convinced? No worries. Keep scrolling and you'll find many more photos waiting for you to check out.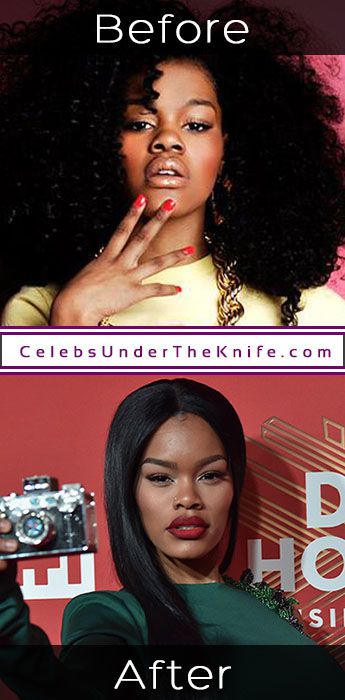 Born in 1990, Teyana was first discovered for her artistic talents when she signed a deal with Pharrell Willams' Star Trak Entertainment in 2007.
As you know, she's gone on to star in a wide variety of performances including the movies Stomp the Yard 2 (2010), The Love Section (2013), and Brotherly Love (2015).
One of her most famous appearances, however, is her ever admired performance in Kayne West's music video for Fade. She shows more than a little skin, allowing the world to gawk at her extremely athletic body and toned muscles.
It's flying past the 70 million view mark, with it easily clearing over half a million likes. At 3 minutes and 44 seconds long, you'll be hooked from the first second. Watch it here (NSFW).
The music video was released in 2016 (post-nose job).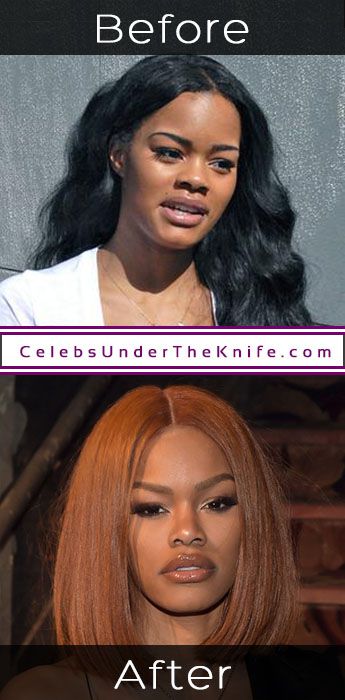 There you have it ladies and folks – the telltale signs of Teyana's nose operation. Of course, with so many eyes on them, we have no doubt there's a thought lingering in your mind wondering whether her boobs are real or not.
As experts in determining the realness of boobs, if you ever have a question like this for another celebrity, you know where to go (our website!).
Cockiness aside, unlike the nose, it seems her boobs have been flowing naturally throughout her whole life. Did you watch the music video for Fade? If you haven't – it's jiggly boob land.
A good amount of jiggliness is a sure sign there are no silicon implants inside the breasts. Which is exactly what Teyana's boobs are telling us.
---
It's a yes to a nose job, and a no to a boob job.
---
Speaking of jiggly boobs, have you seen Salma Hayek's ones recently? If you didn't know – her boobs are enhanced, but they are the good type of enhanced. The type that looks extremely natural. Check out all the photos here.
Teyana's Decade Transformation
One of the absolute easiest ways to tell if someone has had plastic surgery or not is put together a timeline of photos showing the body part in question of a few years.
And so, that's exactly what we've done.
Follow along as we travel through time with Teyana.
2006
Here she is – walking the streets of what is probably NYC. One of the few photo of her early years, showing her both without the nose job and no makeup to go with it.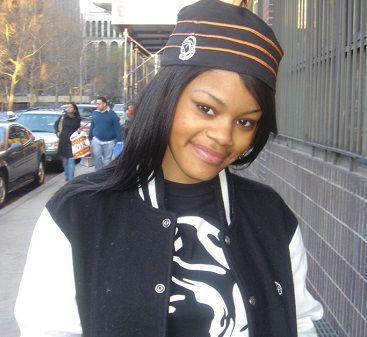 2009
Halloween II! Do you remember that film? Came out in 2009 and Teyana was at the premiere.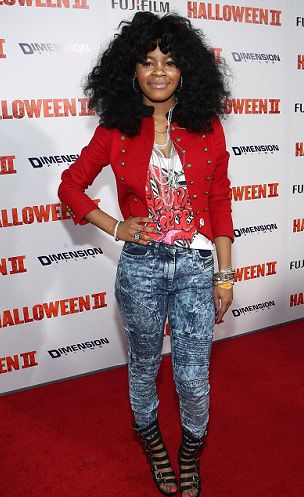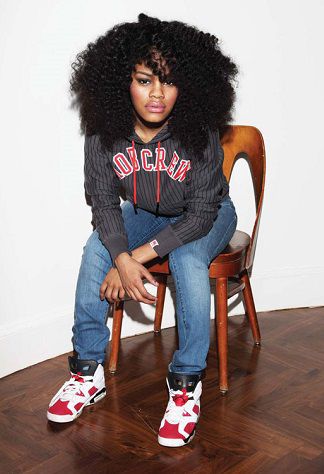 2012
2012 – still pre-nose job. Although she's moving up in the world as you can see by the insane amount of blind she's donning in the first photo.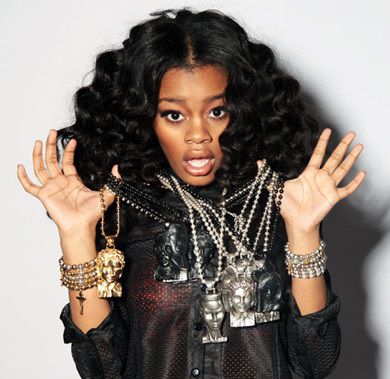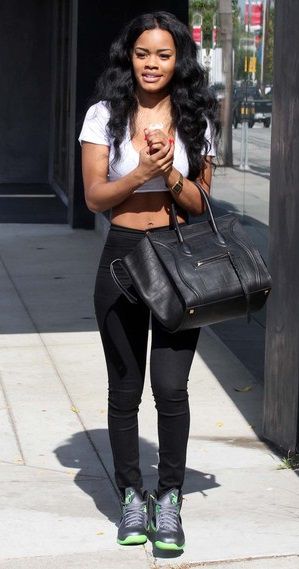 2014
The last year of two with Teyana and her big old nostrils. They'll be gone pretty soon.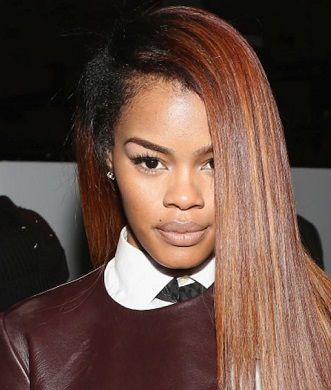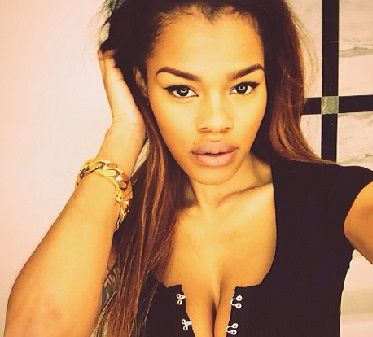 2016
And there you have it! From our research, it seems Teyana went under the knife sometime during 2015/2016. Check out the first photo here and you can already see the difference in the size of her nose.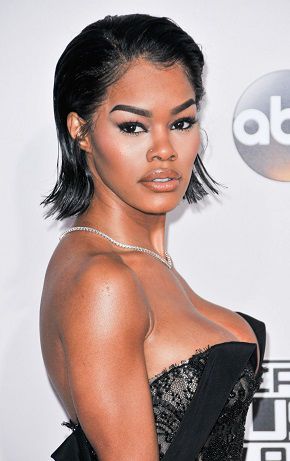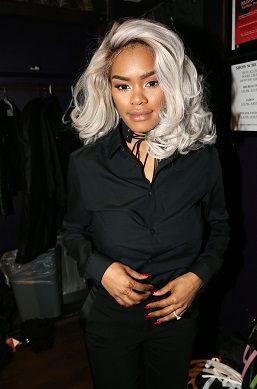 2017
She's worldwide famous now. Her famous dancing in Kayne's Fade has shot her into the limelight. And into the fitness industry as well. She's toned up and an advocate for many women around the world looking to stay fit.
A few of the top voted comments on Youtube:
This woman has inspired me to work out, so good to see a strong sexy woman in videos instead of unhealthy ones – MissDimples

Now THIS is the body to be inspired by, not those skinny Instagram girls who starve themselves. She's toned as hell and looks amazing! – Chelsea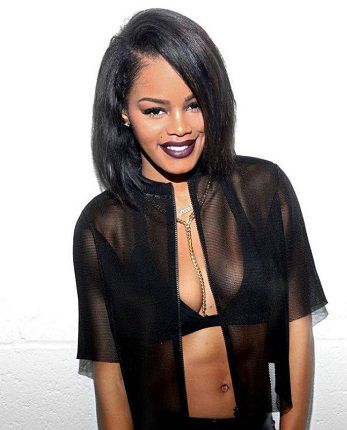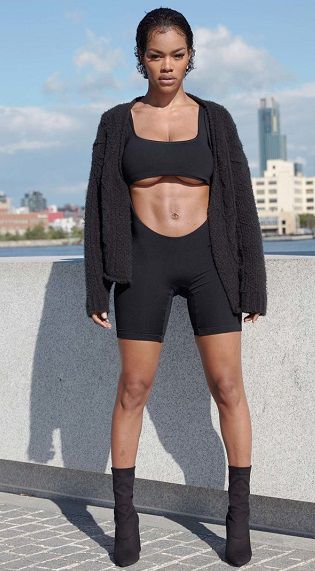 ---
What do you think of her nose job?
Do you think she made the right decision? Or was she better of staying all natural? Let us know in the comments below. Click the button to comment.
---
Plastic Surgery Information
The table below contains information on everything from botox to boob job! Check out the status of all Teyana Taylor's plastic surgeries!