Dove Cameron Plastic Surgery – Nose Job + Lip Injections [PICS]
Introduction
Born in 1996 in Seattle, Washington, Dove Cameron (officially Chloe Celest Hosterman) is currently in the prime of her acting career in 2017 at the young age of 21 years old. She's been active in the Hollywood scene since 2012 following her first role in Bits and Pieces (2012), where Dove played a young girl named Alanna. This means her first appearance on screens around the country was when she was just 16 years old. Quite young indeed. Over the course of her young career, many fans and critics are already starting to wonder if she's had plastic surgery or not.
Specifically, they are discussing two potential procedures – lip injections and a nose job. Both some of the most common cosmetic procedures in both the celebrity world and for the rest of us. Why? People simply notice these two features of a person's face the most and they're the most memorable when trying to remember someone's face. Think about it, if someone has a big nose, you'll remember them by thinking "it's the person with the big nose". Alrighty, back to Dove for a bit.
Dove Cameron is best known for her work in Liv and Maddie (2013-2017) where she plays a character called Liv Rooney. She's appeared in all 80 episodes and has been nominated for a number of Kids' Choice Awards and Teen Choice Awards. Specifically, Dove was nominated for the Favorite TV Actress in 2016, and the Favorite Female TV Star in 2017 – both at the Kids' Choice Awards.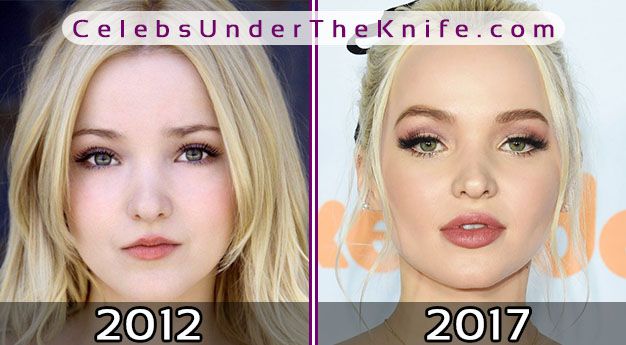 She's appeared in a number of other productions including TV movies such as Descendants (2015), Cloud 9 (2014), Hairspray Live! (2016), and Descendants 2 (2017). Her career in TV and TV movies is set to continue, as she also expands herself to try and break into the music scene. Dove is not surprisingly extremely popular among young teenage girls.
Her Instagram account has a whopping 11.1 million follows, and another 2 million across her Facebook, Twitter, and Youtube accounts. She's so popular, in fact, some sites such as ThatGirl.com.au host quizzes her fans can take to find out how well they know her!
It's no surprise, after successfully penetrating the highly sought after acting career, many are noticing a few changes here and there in Dove's facial features. Which could possibly be indications of her going under the knife and receiving some sort of cosmetic procedure or plastic surgery.
Dove And Her Lip Injections
Take a look at the before and after photo below, and tell us it doesn't look like Dove Cameron has had lip injections or some sort of lip filler surgery. The changes in her bottom lip before and after is simply too great to ignore.
Compare the two images with before and after comparison of celebrities who have confirmed to have lip injections, and you'll find the differences to be extremely similar in nature. It's quite a shame Dove has seemingly felt the need to inject her lips with man-made substances, all simply for appearance.
It shows her fans, and the rest of the world she considers going under the knife for plastic surgery a better way to address self-confidence issues than to face them with the help of those around you. Of course, it may have been those around her to pressure her into getting the lip injections altogether – we'll never know.
As no statement has been officially made by Dove, all we can do is speculate whether her lips are natural or not. If you have some better before and after pics, or some other form of proof she's gotten injections in her lips – let us know!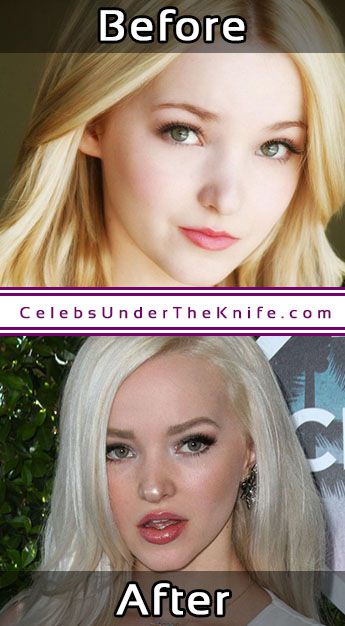 Dove's Nose Job Photos
As we mentioned above – nose jobs along with lip injections are currently the favorite cosmetic operations for people in the United States. Even more so for celebrities as they are constantly looked to, to appear 'perfect' in their appearance all the time. Even the smallest blemish on their skin may attract intense media attention – hence the reason many opt for plastic surgery, which we believe Dove Cameron may have done.
Dove's before and after photos of her nose job below allegedly show the transformation of her nose after the plastic surgery. If you take a close look on the before photo on the left, you'll notice her nose is far wider at the base, along with her nostrils flaring a bit more around the edges. Move your eyes to the after photo on the right, and all of a sudden the wide base has disappeared. She's left with a smooth, narrow nose with no signs of flaring nostrils either.
Based on these facts, it seems evident Dove Cameron has indeed gone under the knife for rhinoplasty. Rhinoplasty offers a number of options the patients can choose from to shape the nose the way they like such as:
Changing the angle of the nose
Straightening the bridge (top) of the nose
Reshaping and restructuring the tip
Increasing or decreasing the flare in the nostrils, and of course
Altering the overall size of the most – this is the most common one
If you think Dove's had a nose job or not – let us know in the comments! We'd love to hear your thoughts based on her before and after photos.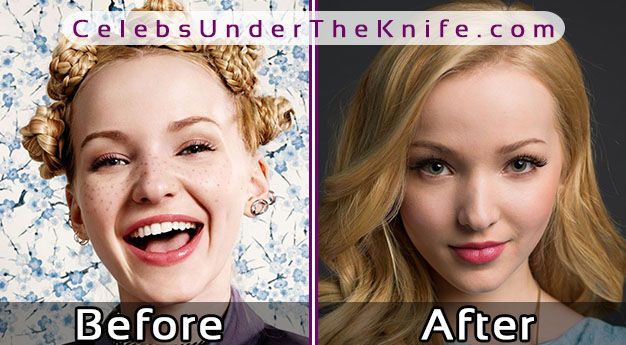 ---
Has Dove Cameron Had Plastic Surgery?
VOICE YOUR OPINION! Let us know in the comments below if you believe the before and after photos of Dove Cameron's plastic surgery!
---
Plastic Surgery Information
The table below contains information on everything from botox to boob job! Check out the status of all Dove Cameron's plastic surgeries!