Chanel West Coast Plastic Surgery – Pics Before + After Boob Job?
Introduction
Born on September 1st, 1988, Chanel West Coast is widely known for her career in the music industry as a rapper. She wasn't always Chanel West Coast, though, her parents originally named her Chelsea Chanel Dudley. The star spent most of her time growing up in two locations – Los Angeles with her Mom, and New York City with her Dad, both the plastic surgery capitals of America. Chanel's father, a Russian DJ, took her to nightclubs around the city starting at the very young age of just 8 years old. This is likely the reason why she was drawn to the music industry, and maybe a contributing factor as to why she's potentially received plastic surgery.
Of course, music is only a single part of her career at the moment. There's a lot more to add to her resume such as actress, model, TV personality, and songwriter. She's starred in a number of TV shows including Wild Grinders (2012-2015), The Playboy Morning Show (2016), and Ridiculousness (2011-2017) where she hosts a number of other musicians including the Chainsmokers and Jessie J.
She first got into the TV scene through Rob Dyrdek in 2008, after he hired her to be a receptionist whilst he was starring in the MTV show – Roby Dyrdek's Fantasy Factory. Three years later, Rob gave her an opportunity to play as Sheila in an episode of The Hard Times of RJ Berger, and the rest is now history.
Chanel's musical career seems to be quite successful as well. Her Youtube channel, featuring all of her music, has more than 39 million views across all the videos. Songs like Karl, Alcoholic, Been On ft. French Montana, and I love Money are a few of her most popular hits. Her other social media accounts are also extremely popular amongst her fans.
More than 2.9 million people are currently following her Instagram account, with another 5.6 million keeping up to date on her Facebook page, plus around 883,000 fans following her Twitter account. Not bad at all! With so many people constantly looking at Chanel and how she looks, it's no wonder people are always wondering if she's had a boob job or not! Not only that, many people also believe she may have had some other type of plastic surgery procedure as well such as lip injections or botox. You can't deny it any longer from her before and after photos!
If you're interested, you can check out Chanel's official website here.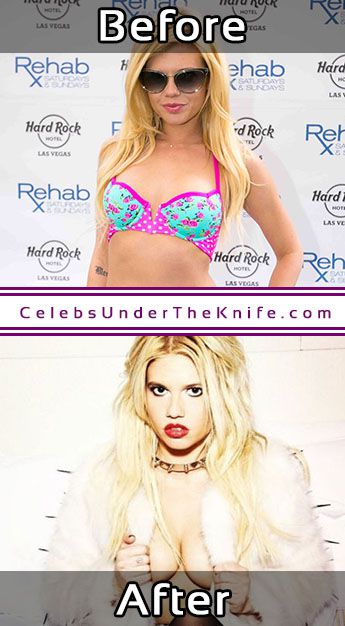 Chanel West Coast's Breast Enhancements?
There's been a lot of talk recently about Chanel and her breasts, and whether they've remained natural after all these years appearing on the TV and in music videos. It's no question that for many female performers in both industries, there is immense pressure to appear sexy and desirable. And one of the easiest ways to achieve both of these outcomes is to simply get a boob job, or breast augmentation as it's technically called.
According to Pacific Heights Plastic Surgery, there have been enough silicone implants created since 1997 for the sole purpose of increasing breast size to fill an Olympic-sized swimming pool. The American Society of Plastic Surgeons (ASPS) has released figures showing 4.95% of females in the United States have gone under the knife for a boob job. That equates to around 5.1 million silicone implants walking around the streets of the United States. Insane number!
No wonder Chanel may have considered a breast enhancement for herself. It's such a popular procedure – people rarely tend to look down on those who've received it simply because so many people have them now. Over $2 billion has been spent on breast implants since 2010 alone, and we believe along with some of you, that Chanel has contributed to this number.
Go on, get out your magnifying glass and have a look over Chanel's alleged before and after photos of her boob job. You don't even need the magnifying glass, in fact, the changes are simply too big! Pun intended. Go back to the first after photo above, if you can tell us with a straight face her breasts do not look enhanced in any way, you're delusional! Ok, maybe not delusional, but very hard to convince!
Chanel has made a not-so-official comment regarding the rumors of her breast augmentation following the accusations from fans on Twitter:
@tightmark: @chanelwestcoast deff got a boob job. Just saw the new season of fantasy factory.
Another two fans stated the following:
@Calicutss: Chanel West Coast got a boob job 

@ME863: @chanelwestcoast um did u get a boob job?!? B/c this pic makes ur boob look very un natural!!! but I still Like ur persona
Chanel responded to the boob job allegations as follows:
@chanelwestcoast: No just a good push up bra. Lol RT
Simple explanation for a touchy subject? Or a cover up of the truth. You decide!
Let us know in the comments below if whether you believe Chanel, or if the before and after photos of her alleged boob job are real!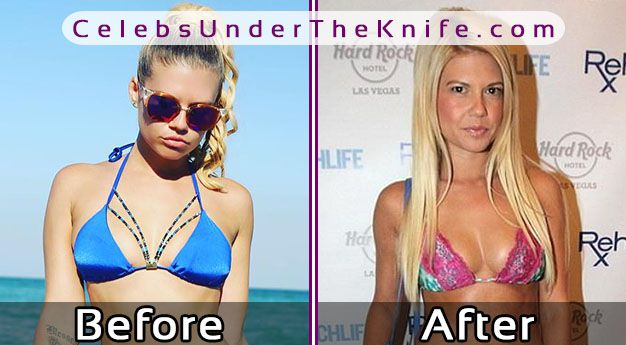 ---
Has Chanel West Coast Had Plastic Surgery?
YOU'VE SEEN THE PHOTOS. READ THE DESCRIPTION. Do you believe? Has Chanel West Coast really had plastic surgery?
---
Plastic Surgery Information
The table below contains information on everything from botox to boob job! Check out the status of all Chanel West Coast's plastic surgeries!