9 Bad Breast Implants Gone Wrong – Before and After Photos
Introduction
Breast enhancement, breast reduction, breast augmentation, breast implants, boob jobs, silicon implants
…there are so many names for one of the most widely used surgery procedures (and most recognized as well)…that whatever you want to call them, people will know exactly what you're talking about. And most of the time, we notice them in celebrities, which is why we've created our END ALL of all the lists out there – our list of 9 Bad Breast Implants Gone Wrong! Feast your eyes on some of the worst, horrific, and plain unimaginably
bad boob jobs which some celebrities have gone under the knife for
.
A brief history of Breast Implants
Besides just
being in awe of breast implant fails
, we figure why not get a little bit educated along the way? Hence, we're going to teach you about the history of the both famous and infamous silicone implants.
1895 – 
The first breast implant surgery. Ever. But it
wasn't for cosmetic purposes
…no, this was purely for a medical reason. Vincent Czerny, a doctor at the University of Heidelberg in Germany, was the first surgeon to conduct such a procedure. He removed the fat from a patient's hip and transferred it over to her breast, which was severely damaged after a tumor started to grow.
1890s
– During this period, the first external (non-human generated) substance was injected into breasts to increase their size. There are reports the substance which was used was
Paraffin
. Why was this bad? Because
Parrafin has dreadful long-term effects
on the human body. We like to think these were the first cases of breast implant disasters. Unfortunately, we were unable to find any before and after photos during this period. Fun fact: Most recently in the early 21st century, some males across the middle eastern countries were
using Parrafin as a method to increase their penis size
. Here's a quote from the article:
Side effects after paraffin administration are various and sometimes severe.
We'll skip forward a bit because we're sure you're most interested in the new-age style of breast implants – the silicone package.
1962 – 
The 60s were an interesting time in human history – LSD and drug acceptance were rampant across America, humans landed on the moon, and the first silicone breast implant surgery was undertaken. Although
not on a human, but rather a dog
.
1964 – 
Saline (salt water) implants entered the market. The French company,
Laboratoires Arion
, were the first organization to
offer breast implants as a hard silicone bag
, which could then be filled with saline – either before they were implanted, or after.
1992 – 
Silicone implants were
banned by the FDA in the USA.
 The reasoning – manufacturers
failed to provide adequate safety and effectiveness
data regarding the short term and long term effects of the consequences on the surgery recipient.
2006 – 
The
FDA overturned their ban
. On condition that each manufacturer of the silicone implants was to conduct 6 studies to further show the safety and effectiveness of the products they were creating.
2017 – 
Saline and silicone implants are here to stay. Although there are new methods on the market such as
Macrolane
 which apparently
only takes 30-90 minutes to complete and is surgery free
. Although, the effects are stated to only last around 12to 18 months. Sweet! We've taught you something new! Now we can move on to the awesome
before and after photos
of some of the
worst boob jobs gone wrong
we could find! Enjoy!
---
9 – Bethenny Frankel
Who is Bethenny Frankel? Good question – even we had to look this one up. But as it turns out, she's one damn popular USA TV personality! How popular – these are her social media followings:
But how did she get so famous? She founded
SkillyGirl Cocktails
, as the name suggests, it's dedicated to low-calorie cocktails. She's also authored four self-help books, and the host of the self-infatuating talk show – Bethenny. One more to add to the list, though –
breast implant gone
wrong
victim
. You would've thought with all the self-help books she's written, her self-confidence you be strong enough to
easily say no to going under the
knife. Apparently not! She's earned herself the number 9 position on our list. She's straight up admitted to
breast augmentation
, as well as a number of other surgical procedures such as
regular botox injections
and various other face altering operations.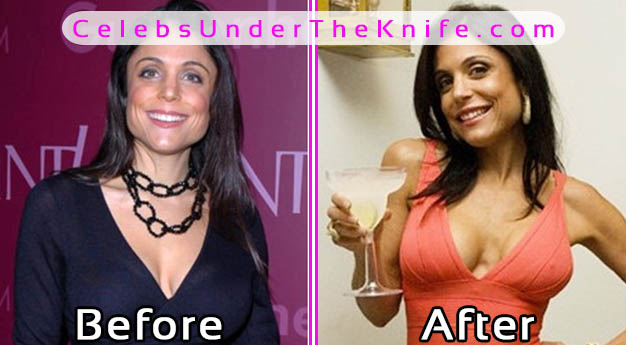 ---
8 – Kelly Bensimon
Kelly hasn't got nearly as many followers as Bethanny does above, with only around 290,000 across Facebook, Instagram, and Twitter. But that hasn't stopped the author, socialite, former model, and former editor of Elle Accessories from opting for the
classic breast enhancement procedure
. Books she's written include The Bikini Book (2006), In the Spirit of the Hamptons (2002), and I Can Make You Hot! The Supermodel Diet (2012). Although, you most likely know her from her
three season appearance
in
The Real Housewives of New York City
. Kelly initially received the intense scrutiny in 2008 after she was shown flaunting her
ridiculously shaped breasts
in the photo on the right below. Despite the photo being quite old, we think she's well deserving of the number 8 on our Bad Breast Implants Gone Wrong list. What do you think? Was the media right for firing shots at her? Did they go too far? Let us know in the comments below!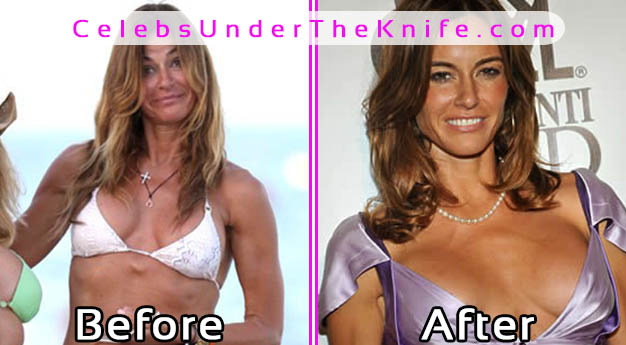 ---
7 – Tori Spelling
Tori Spelling – another actress, television personality, socialite, and author to be added to our list.
See anything in common so far?
They're all in the same sort of occupations! Tori's done a bit better for herself than Kelly, however, with 739,000 followers on
Instagram
, 940,000 on
Facebook
, and 1.08 million on
Twitter
. You may know the now 44-year-old from independent films such as Izzie's Way Home (2016), Kiss the Bride (2007), Cthulhu (2007), Trick (1999), and The House of Yes (1997). She
topped the New York Times Best Seller
list with her punnily named
Stori Telling
autobiography, also named the best celebrity autobiography of 2009. Yet, with all her success, she's also
fallen victim to breast implants gone wrong
. Take a look at the before and after photos below and tell us she shouldn't be on this list. Tori has openly admitted to regretting the procedure – stating in an
interview with Good Morning America
:
Well I got my boobs done in my early 20's and if I had known it would or could possibly impact production of milk, I would never had had them done.
---
6 – Victoria Beckham
Arguably one of the
most famous actors on the list
– one of the original
Spice Girls
, dubbed Posh Spice, and the wife of the godly soccer star – David Beckham. She smashes the social media followers tally as well, with nearly
30 million fans
total across Facebook, Twitter, and Instagram. We're sure many of you reading this are already following the star Spice Girl. Victoria has played a role in nearly half a dozen documentaries as well as multiple reality tv shows
depicting her life as a worldwide superstar
. Just recently in early 2017, Victoria Beckham opened up about her breast augmentation in an
interview with Vogue
. She revealed in a letter to her 18-year-old self:
You will always be addicted to Elnett hairspray but you will tone it down. Less of the "Hello! I just got stuck in a wind tunnel", please. And I should probably say, don't mess with your boobs. All those years I denied it – stupid. A sign of insecurity. Just celebrate what you've got.
Interesting fact: There was a
death threat
, and a
threat to kidnap
Victoria in 2000. Shortly after in 2002, five people were arrested for plotting to kidnap her again, but all the charges were dropped after the witness was deemed unreliable.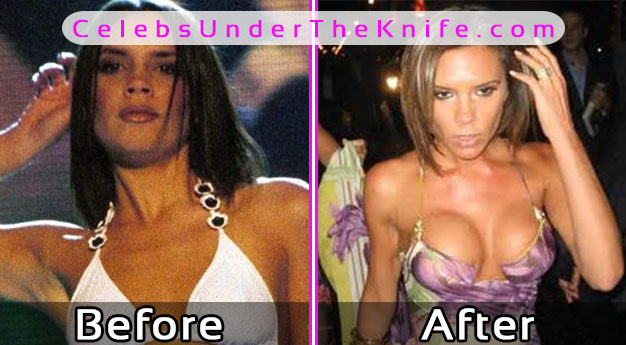 ---
5 – Alicia Douvall
Just researching Alicia Douvall – the second headline on the Google news list was – "
Alicia Douvall had sex with Simon Cowell '11 times in ONE NIGHT'"
–
Link here
. Simon mate, we didn't know you were into the big, wildly huge,
silicone enhanced breasts
?! Alicia's occupation is listed as a model, media personality, television personality, actress, and businesswoman. If you haven't heard of her, it's because she's mainly
active across the pond in England
. She's starred in a number of
reality celebrity TV shows
including Celebrity Love Island (2006), Glamour Models, Mum and Me (2010), and Celebrity Big Brother (2015), where she was the second housemate to be evicted. HANG ON! We can't forget the best – she was also included in the TV documentary –
50 Greatest Plastic Surgery Shockers (2010)
(Link)
. Can you guess for which type of procedure? YEP!
Bad breast implants
gone
horribly wrong
. The before and after below have cemented her in the number 5 position on our list.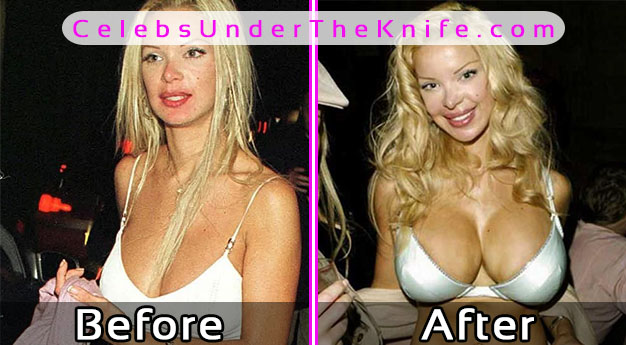 ---
4 – Donatella Versace
Ah, Donatella – she's already been included in our
6 Worst Plastic Surgery Fails Ever
– but her breast implants are just so bad, we've decided to include her here as well. You likely already know who Donatella is by her last name – Versace. She currently owns 20% of the high-end fashion label, putting her
net worth at a massive USD $2.3 billion
. That's right, billion. She's
gone under the knife for multiple plastic surgery procedures
including lip implants, cheek implants, rhinoplasty, and regular botox injections. Of course, none of them are what this list is about, though. Possibly, one of the
worst procedures the billionaire has had
, are her silicone breast implants. If the before and after photos below don't clearly convince you of this is a
boob job gone wrong
, we don't know what will.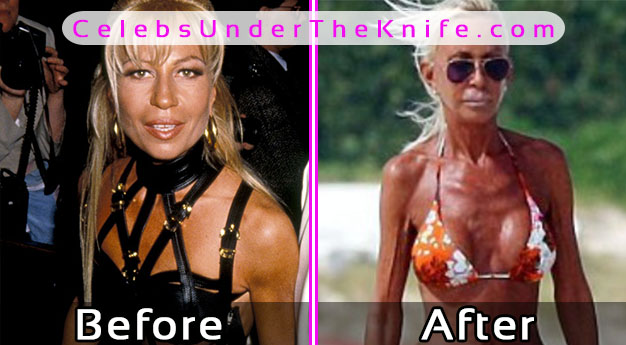 ---
3 – Katie Price
Our second most famous celebrity on the list – Katie Price – coming in at just under
5.8 million followers
across
Instagram
,
Facebook
, and
Twitter
. She was previously known simply by the name, Jordan. Who is she? Katie's an English television personality and glamor model. Interesting, many of the
boob job fails are originating out of Eng
land. Our advice: don't go there for breast implants! One event in her life shot her into worldwide fame – her topless photoshoot with The Sun back in the 1990s. She went on to become
world famous
and expand into a variety of different roles such as television actor, author, fashion designer, and singer. Her
net worth is currently estimated at around  USD $56 million
. She's been married to some high profile people as well, including the singer, Peter Andre, from 2005 to 2009. Of course, we beg the question, would she have gotten where she is without her
clearly obvious breast implants
? She's thankfully not denying the allegations, seeing as though 2016 saw her
go under the knife for the 8th time
to increase her breast size. Getting a bit too big we think! Well deserving of the 3rd position on our
breast implants gone wrong list
.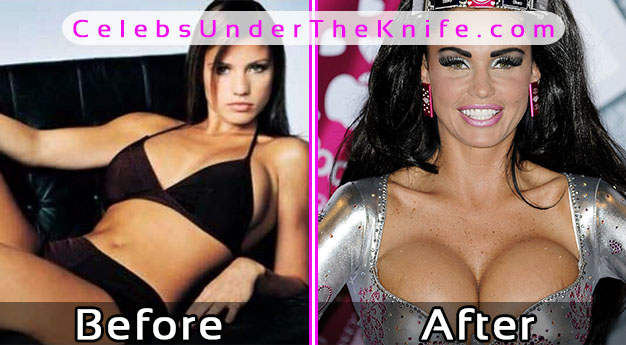 ---
2 – Sheyla Hershey
Sheyla currently lives in Texas, but she didn't always. She's
originally from Brazil
where she earned her fame as a now former housewife and media celebrity. She's
known for her breast implants
. Well obviously! Just look at the photos below! Holy hell they're BIG! Can you guess what size she originally was on the left? She was a nice, enjoyable B-cup. What size did she increase to after receiving
breast augmentation plastic surgery 8 TIMES by 2008? 
A 34FFF. Of course, she couldn't stop there. No, she flew back home to Brazil and
underwent one more operation
. Increasing her cup size to 38KKK. Why? OH GOD WHY. If Sheyla isn't completely fitting for the
number 2 position on boob job failures
, then pigs are monkeys.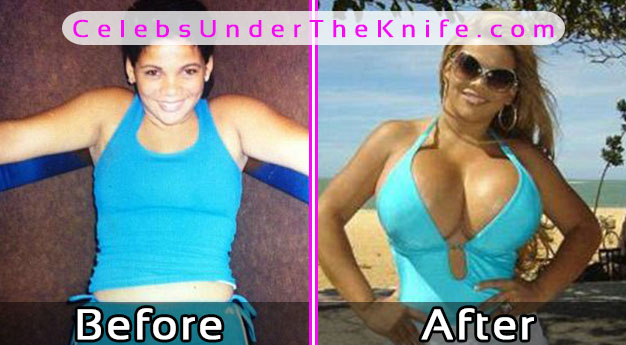 ---
1 – Lolo Ferrari
Lolo Ferrari – Haven't heard of the name before? You should have! She set the
Guinness world (or worst) record for the largest breasts
ever in 1999. Through a series of silicone injections into her breasts, she
expanded them out to a huge 71 inches
(or 180 cm) weighing an undeniably uncomfortable 12.4 pounds total (5kg). Can you take a guess as to how many surgeries these enormous breasts required? Damn, they're so big dust probably orbits them! How many do you think? 1? 5? 10? 20? 50? The total number of times Lolo went
under the knife to enlarge her breasts was 22
. Could you imagine, consciously making the same decisions to increase your breast size 22 times over? Holy.. Ok, we know she's hit the number 1 spot on our breast implant fails, but who exactly was she? Lola was a
Franch dancer, porn star, actress, and singer
. She was born in 1963 and passed in 2000 after an overdose. Her husband, Eric Vigne, was arrested shortly after on
suspicion of her murder
but was cleared in 2007.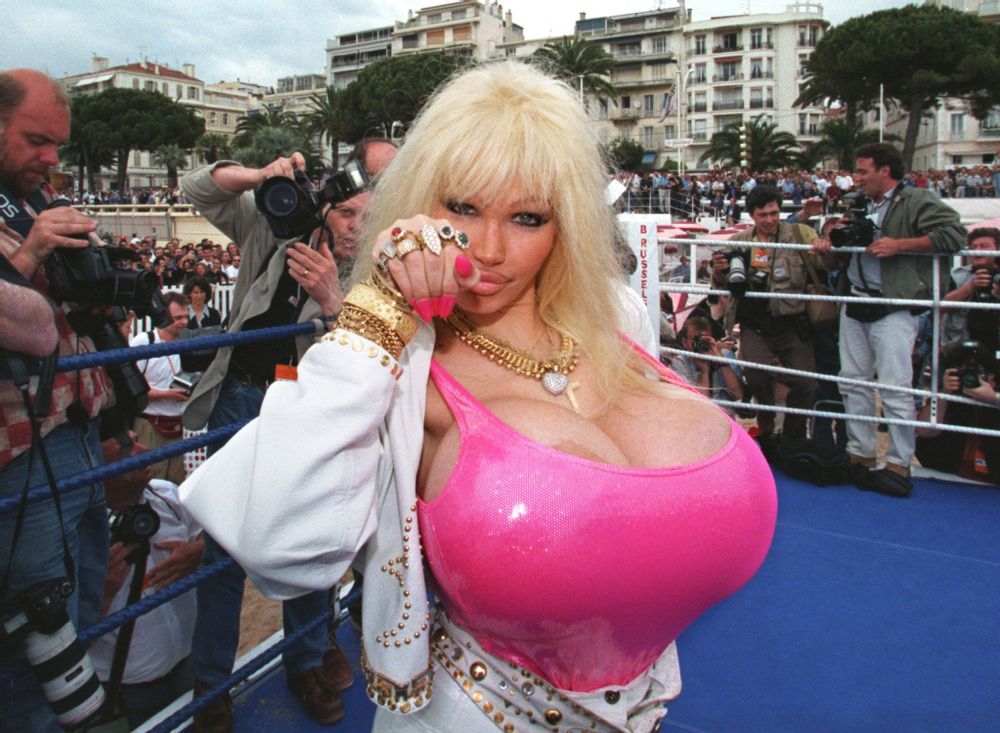 ---
WHAT DO YOU THINK?
Is the list in the right order? HAVE WE MISSED ANYONE OUT?
LET US KNOW in the comments below!
Plastic Surgery Information
The table below contains information on everything from botox to boob job! Check out the status of all plastic surgeries!