6 Worst Plastic Surgery Fails – Before and After Photos
Introduction
Want to see some of the craziest – WORST PLASTIC SURGERY FAILS EVER? You've come to the right place.
Once you start scrolling below, you may start to question your own existence – you have been warned. Some of the procedures these celebrities have gone under the knife for have left them scarred, damaged, and possibly heartbroken.
We truly wonder what some of these surgeons were thinking – and if they knew once the operation was over – they were adding to some of the worst plastic surgery mistakes in Hollywood.
ALRIGHT! ALRIGHT! Enough jibber jabber – on to the before and after photos. BUT! Before you scroll down, can you take any guesses as to who's made the list? 5 points to Slytherin if you guess right!
---
6 – Latoya Jackson
Coming in a number 6 on the list – we have none other than Latoya Jackson. Check out her before and after photos below and TELL ME it's not deserving to be on this list.
DAYUM. Latoya was absolutely stunning before she opted to go under the knife in what we can only consider a completely irrational decision she's made in her life.
She's has a range of modifications made to her body by both skilled, and what we can only believe – non-skilled surgeons throughout her years. Here's a list of the operations we know for a FACT she's had:
Rhinoplasty, Chin implants, Cheek implants, Breast implants, and Lip injections.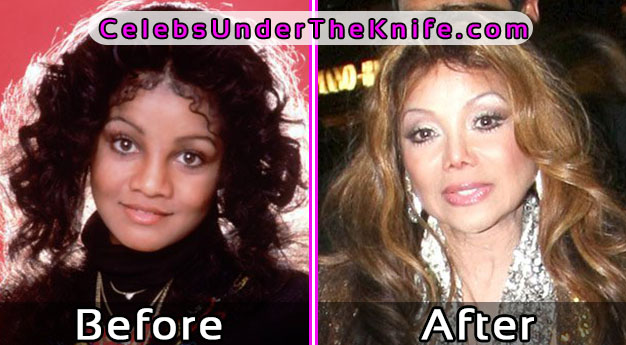 ---
5 – Michael Jackson
What better way to start off the list than with siblings?! Plastic surgery runs in the family, and it's well known throughout the world that Michael has also had too many to count operations on his face.
The one which is likely the most famous, though – his stand out nose job.
We won't go into too much detail, as he has passed away, but one question – Why? Just WHY!!??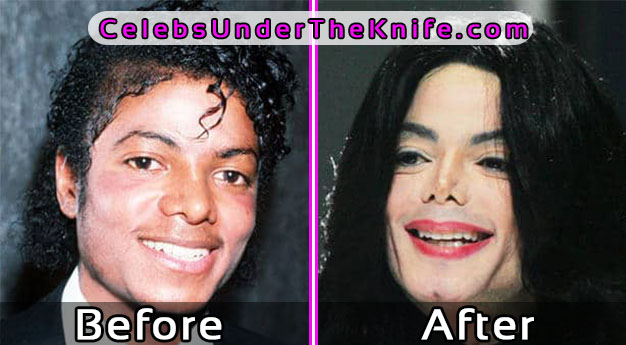 ---
4 – Meg Ryan
Oh, Meg, our loving actress from Sleeping in Seattle, Anastasia, When Harry Met Sally, and You've Got Mail, why on earth did you choose this route?
Avert your eyes to the before and after photos below, and tell me she is stunningly gorgeous in the before. Lips on point, facial structure to die for, what more can we say?!
But swing your eyes to the right, and you'll come across something quite terrifying – the after shot of Meg Ryan following plastic surgery.
Look at those lips, destroyed. There's no dreaming about planting a big one on those anymore!
Let's just imagine Meg never went under the knife and still looks like she did on the left. No on will know except for us!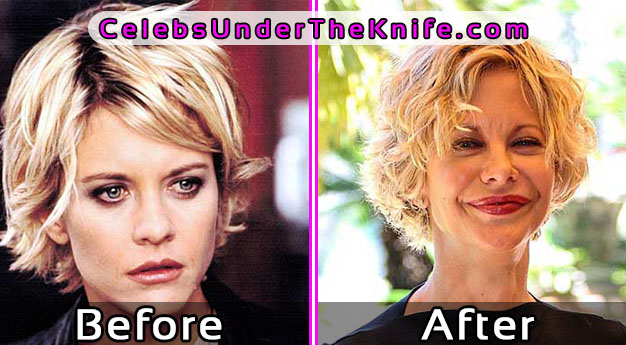 ---
3 – Dolly Parton
OK, now we're deep into the list, and we're starting to travel across some dangerous territory. These are some faces you can't un-see, you have been warned.
If you don't wish to scar your mind, instead of checking out the worst, check out the BEST CELEBRITY SURGERY HERE. For those who wish to stay, onwards you brave ones!
Dolly Parton – most of you will know her primarily for her country music she produced from the 1960s to the present. However, she's also a record producer, actress, author, businesswoman, philanthropist, and of course, one of the latest celebrity victims of going under the knife.
Sure, there may be quite an age difference between the two photos – BUT CMON! WHY WHY WHY would you rather look like a malfunctioned doll than an normal old person?
Big insecurities here.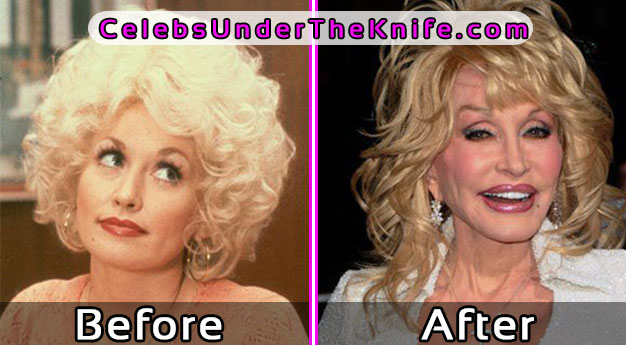 ---
2 – Daryl Hannah
One of America's most famous horror movie stars – who first made her appearance on Brian De Palma's supernatural horror film – The Fury back in 1978.
AND TO THIS DAY – she's still starring in more movies with The Slider and The American Connection both set to come out in 2017 starring Daryl Hannah.
But how can one act for so long in such a appearance based industry? HOW? PLASTIC SURGERY THAT'S HOW! And in this case, not the good kind either.
Daryl has undertake a wide range of operations under the knife including – Botox injections, derma fillers, lip injections, cheek implants, and likely more we aren't aware of.
From the beautiful goddess on the left, to the man made alteration on the right. Can you BELIEVE IT?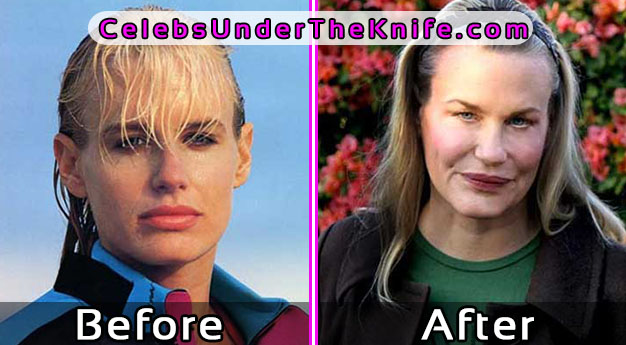 ---
1 – Jocelyn Wildenstein
If you've ever browsed a worst celebrity plastic surgery fails list before, you'll have likely already seen some pictures of the before and after shots of Jocelyn Wildenstein.
Arguably the most famous botched plastic surgery in the history of celebrities going under the knife.
We won't speak much about this one as you already the famous proverb – a picture tells a thousand words.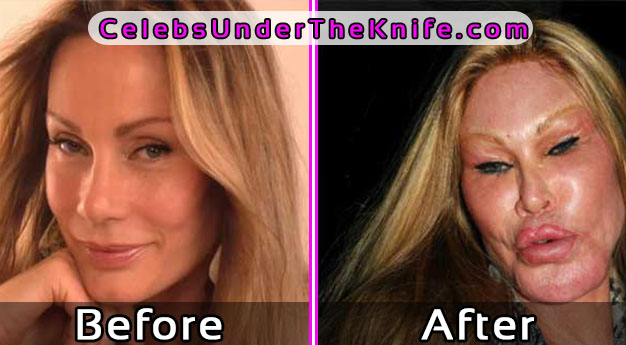 ---
WHAT DO YOU THINK?
Is the list in the right order? HAVE WE MISSED ANYONE OUT?
LET US KNOW in the comments below!
---
Plastic Surgery Information
The table below contains information on everything from botox to boob job! Check out the status of all plastic surgeries!