Jodie Sweetin Boob Job? Before + After Photos Of Her Plastic Surgery
Introduction
Jodie Sweetin – born January 19, 1982, has recently come under an intense spotlight regarding her potential plastic surgery. One of the main reasons for her appearing on the 22nd season (yep 22!) of the US version of Dancing With the Stars in 2016. Unfortunately, she was not to reign victor as she was knocked out in the 7th round on May 9, 2016. However, that hasn't stopped people from begging an answer to the same question – what on earth had Jodie done to her boobs? Is it a boob job? Or simply the results of natural aging. Let's find out!
Jodie grew up in the plastic surgery capital of the world – LA, California, and started her career in the Hollywood scene more than 30 years ago. Today, she's known to us as an actor, singer, TV personality, and of course, a dancer. If you already know about Jodie, you probably know her from the hit TV show – Full House in which she played Stephanie Tanner. Jodie appeared in all 193 episodes from 1987-1995. We did some complicated math, and found out she was just five years old when she got her first gig! Quite young indeed.
She starred alongside some other now-famous names you'll recognize including Mary-Kate Olsen, Ashley Olsen, Bob Saget, Dave Coulier, and John Stamos. Many of which can credit the success of the rest of their career to the wildly popular show. From Full House, she's gone on to appear in a number of other TV shows and a few movies including Party of Five (1999), Defending Santa (2013), Fuller House (2016-2017) – which is a sequel to Full House, and Hollywood Darlings (2017) which is currently on-air.
Hollywood Darlings is a show with Jodie, Beverly Mitchel (from 7th Heaven), and Christine Lake (from Step by Step). The three childhood stars get together in an unscripted environment to talk about their lives in the Hollywood industry and the struggles they all face as moms, wives, and businesswomen. You can check out a clip on the Today Show for a teaser. We wonder…maybe they've talked about getting plastic surgery on the show as well? We haven't seen an episode so let us know if they do!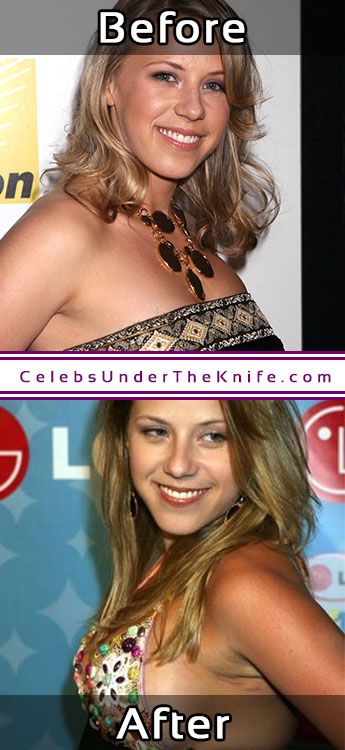 Jodie's Breast Changes
On to the good stuff! As you can see from the huge number of before and after photos we've put together on Jodie's alleged breast surgery (or boob job as most people like to call it), there are some definite signs of unnatural changes along the years. In photos taken recently in 2016 and even as recent as early 2017, you will notice her boobs seem to be far fuller and near perfectly round. This is quite odd considering she's recently had another child in 2012. It's simply quite strange for a mother to bounce back so quickly from the effects pregnancy has on a mother's breasts.
Not only that, they seem to be able to keep their perky, round shape without any external assistance as well. Sure, she's not topless in any of the photos, but the bikinis and loose dresses which she's wearing do not seem to be pushing her breasts into the perky position they're in. This is a classic example of breast enhancements in a woman – if their boobs are able to remain perky without a push-up bra in the mix. Another sign tilting Jodie's scale in favor of a boob job.
Lastly, in the two photos below where she's wearing the orange shirt, purposely exposing her breasts. Jodie seems to be quite proud of how they're looking at the moment. As she's rarely posed in photos like this before, it could indicate she's recently gone under the knife and is so proud of the results, she wants to show the world her new boobs. From all these photos, we can quite confidently conclude Jodie has indeed had a breast enhancement.
One likely reason for this is simply for a confidence booster, or to bring her back into the celebrity limelight and potentially be cast in more TV shows and movies. Jodie has made certain statements directly relating to plastic surgery in the Hollywood scene, but we'll get to that further down.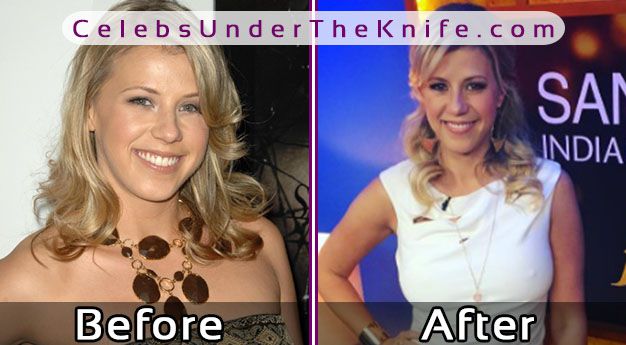 More Surgery
A boob job isn't the only thing her fans and followers are wondering about. Many people who have looked to the actress on their screen seem to have noticed other changes on her body as well which may be the result of a few surgeon visits. In particular, her face seems to have aged unnaturally.
Nose jobs are one of the most talked about surgeries in the world – period. Every single change in a person's nose, especially if they're a celebrity constantly appearing on our TV screens, is noticed by someone. Simply because it's the center of their face – everything else revolves around it. With such a high focus on Jodie's nose, it's only natural some people are also questioning whether she's had rhinoplasty – the technical term for a nose job.
However, from the photos we've looked through, and then comparing the alleged before and afters, it doesn't seem so. There are no major changes in Jodie's nose to conclusively deduce she's received a nose job. That's just our opinion, though! Let us know in the comments if you believe otherwise.
Lastly, there are a select few people who also think she's gone and had a few botox injections or a facelift as well. Botox injections are extremely hard to spot if they've been done by a trained professional (one who knows exactly what they're doing), and in Jodie's case, this had to have been the case if she's had some. There are no noticeable changes in the skin around her face, and no signs of previous wrinkles or face lines magically disappearing from one year to the next.
From our work, it looks like the only surgery Jodie Sweetin has had is a boob job. If you're after more evidence, Miley Cyrus posted a picture on her Instagram in 2016 which further shows evidence of Jodie's unnatural breasts.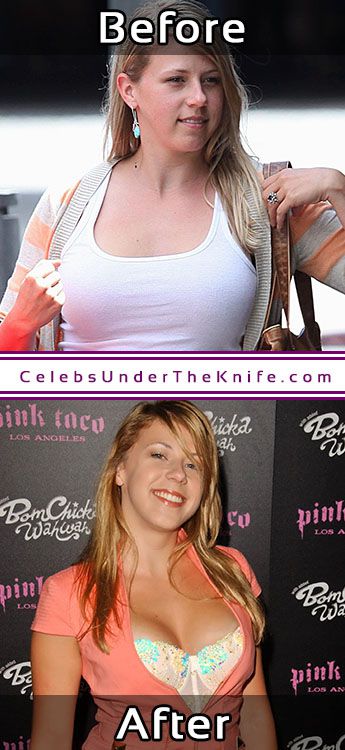 Why Celebrities Get Surgery
If we compare social economic groups within our society, we'll find that celebrities have one of the highest plastic surgery rates of any group. Dr. Renato Calabria stated she believes around 40% of all young actors (male and female) between the ages of 25 and 30 have, or will go under the knife in the near future. The most common form of surgery for these actors is nose jobs, breast augmentations, and lip injections.
As Jodie falls right into this category, even without the noticeable proof in her before and after photos, there would've been a large chance she was going to receive some form of plastic surgery during her career. Dr. Renato Calabria also states nearly 100% of all those who continue to act past their 40s have all had plastic surgery. So those 'naturally beautiful' actors over 45 you see plastered across the screen? No so natural after all.
At 35 years old in 2017, Jodie is nearing that age. We believe it's only a matter of time before Jodie opts for some more plastic surgery to keep her face looking young and pristine. No one likes a sagging face on screen in the Hollywood industry, especially the producers. Plus, with the strong evidence for her already receiving breast augmentation, she's much more likely to receive more surgery than one who's a surgery virgin.
Maybe in a few more years, we'll be back with another piece on Jodie, and the after photos you see here today will become the before! Only time will tell.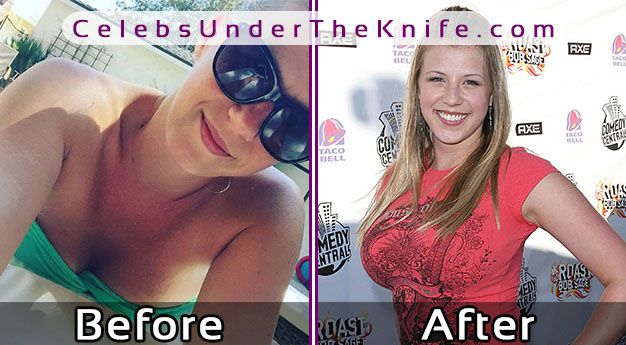 Drug Abuse
You may not know this as it happened quite a long time ago, but Jodie was deep into drug abuse at an extremely young age. Shortly after she shot to fame in Full House, once the series finalized, she started drinking alcohol. Jodie was just 14 years old at the time.
For the next 15 years, she continued on this dangerous path. Quickly expanding from the mundane alcohol, she started to indulge in ecstasy, meth, crack, and a whole lot more. In 2006, she stated in an interview with ABC she was 'unemployed and bored and simply began experimenting' following the end of Full House. Soon, she was using meth every day. Thankfully, it didn't end her.
In 2010, Jodie published a book recounting her experience with drug addiction and overcoming it titled – unSweetined: A Memoir. You can read about the book here. One review from Amazon.com stated the following:
Jodie Sweetin's unSweetined was an excellent story about her life and battles with addiction. She accurately describes the same feelings and thoughts that all addicts live with and the struggles that we know too well. – Jennifer
From our experience, we can assume Jodie's plastic surgery was one of the tools she used to bring herself back into a good state of mind. Enhancing her breasts may have been able to give her the confidence booster which she needed to turn her life around. And from the past few years, it looks like it's worked.
Jodie currently has more than 1.8 million people following her across her social media pages. You can see some of her most recent pics on her Instagram account, Facebook page, or check out her Twitter feed.
We'd love to hear your thoughts on Jodie's body changes over the years – so let us know what you think in the comments below!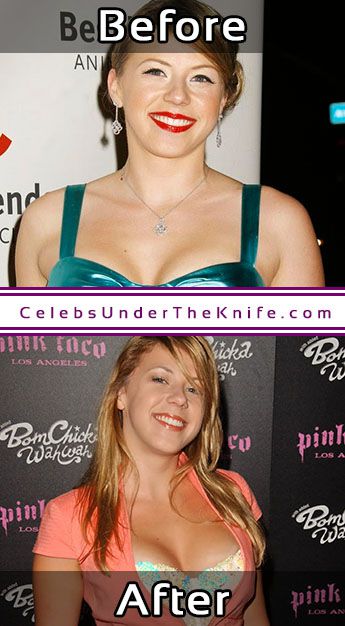 Plastic Surgery Information
The table below contains information on everything from botox to boob job! Check out the status of all Jodie Sweetin's plastic surgeries!