Matt Damon Nose Job? Before + After Surgery
Introduction
Born October 8, 1970, we believe Matt Damon to be one of the most versatile male actors to have walked the earth. His ability to act in so many different genres of movies, and play the part effectively, has earned him a seat at the big table with all the A-list celebrities. However, besides Matt's hard earned acting talent, there's something else which people seem to remember him by. And that's his nose. So much so, that many of the people who have watched Matt over the years are starting to wonder whether the change in his nose is from a nose job, or just natural aging.
Before we get a bit further into the plastic surgery rumors, let's take a bit of a closer look as to who Matt really is. He grew up in Cambridge, Massachusetts to one Kent Damon and Nancy Carlsson-Paige. His attendance at Cambridge Alternative School (now Graham and Parks) proved to be extremely beneficial following his performance in several of its school theater productions. Matt went on to attend Harvard University, and before even graduating, had already attained the lead role in the movie – Geronimo: An American Legend. This was the beginning of something great.
Over the next two decades, Matt went on to star as lead characters in some of the world's most favorite movies. Some titles which you'll definitely recognize include Good Will Hunting (1997), The Bourne Identity (2002), The Departed (2006), The Martian (2015), and a 2017 flick still in post-production, Downsizing (2017). Of course, we can't leave out the Ocean's series – which is releasing another addition to the franchise in 2018, and Matt will be there! More information on Ocean's Eight here.
Alas, with nearly 30 years starring in movies and appearing on the screens in people's homes around the world – many people know his face. And many people have started to notice changes in his face as well. As mentioned briefly, people are particularly paying attention to the center of his face – being his nose. A large portion of celebrities are usually targetted with plastic surgery rumors at least once during their career, so it's only natural to assume some are actually receiving the surgery in hopes of maintaining their career in acting (of which appearance plays and important ). So – is Matt Damon in the same boat? Let's find out.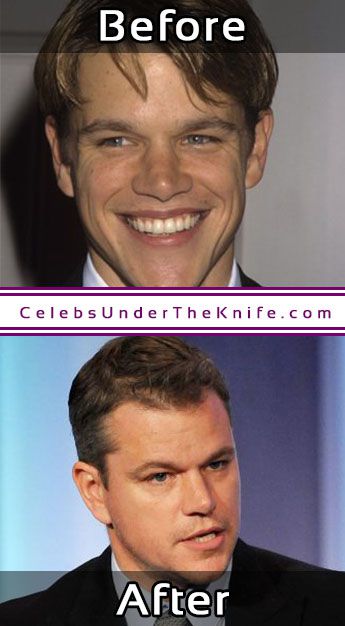 Matt Damon's Surgery Rumors
If you didn't know, nose jobs are one of the most popular plastic surgeries in the United States. More than 217,000 thousand operations were undertaken in 2014 alone. From past trends, we estimate this will increase to around 300,000 nose jobs/year by 2018. Following these statistics, and with nose job procedures being so high, we aren't surprised many are wondering whether Matt Damon should be included in those stats or not.
Alright, enough talk! Let's take a closer look at his before and after photos. Do you see any major difference in his nose yourself? We sure do. Take a look in the before photo below, in the center of his nose there is a great big inconsistency which seems to have completely vanished in a recent photo taken of him on 2017. Sure, nose's are one of the body parts on a human which never stop growing, but that means it should've gotten bigger, not the other way around!
As well, the overall width of the nose looks like it's slightly decreased. This one, however, we aren't sure of. It could be the result of plastic surgery or natural aging. Unless Matt was to come out confirming one or the other, or a plastic surgeon was to scientifically examine his nose before and after, there's no way we can 100% tell.
All in all, from the photos we've put together, it looks to be quite clear Matt Damon has received plastic surgery in the form of a nose job. This is just our opinion so feel free to form your own! Let us know in the comments below whether you think he's gone under the knife or not!
Surprisingly, Matt doesn't have any social media accounts at all. For more information about Matt, feel free to check out his IMDB page or his Facebook fan page. Please note his Facebook page isn't officially connected to him.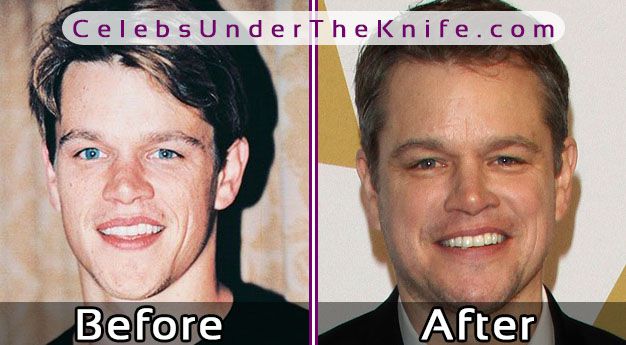 ---
Has Matt Damon Had Plastic Surgery?
ARE THE PHOTOS REAL? Has Matt Damon truly gone under the knife? TELL US in the comments!
---
Plastic Surgery Information
The table below contains information on everything from botox to boob job! Check out the status of all Matt Damon's plastic surgeries!