Famke Janssen's Plastic Surgery? Gorgeous? Yes. Surgery? Maybe.
Introduction
We're back! And we're bringing you one of the most talked about surgery rumors we've come across – Famke Janssen – the stunning redheaded Jean Grey from the X-Men movies.
Wondering where the top image came from? That was from her time in GoldenEye – arguably the most popular Bond movie of all time. Yep – she was a Bond girl!
Moving on!
Does she look a bit exotic to you? That's because she is! Born in the Netherlands in 1964, Famke's been an active actor in the Hollywood industry since her beginnings in 1992.
As much as we'd like to continue diving into her past, we know you're here for one thing. And one thing only – to find out whether she's had plastic surgery or not.
So – let's get into it!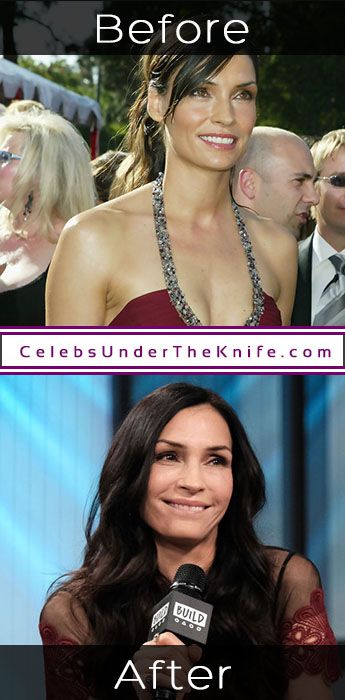 Nose touched by the surgery gods?
Ok, ok. Another way of phrasing the question – has Famke taken a trip to her local surgeon's office and gone under the knife for a nose job?
Well – do you think so? We'll tell you what we think, but first, you need your own opinion! Take a look at all the before and after photos here – then head to the comments!
"There's no evidence of Famke ever having a nose job."
So – there you have it. Don't believe us? Good! We always encourage you forming your own opinion.
But seriously, where's the evidence? Take a look at the single comparison photo below – it shows her nose perfectly early in her career (early X-Men days) and far more recently in 2017.
Speaking of nose jobs – Debra Messing (Grace from Will & Grace) is also rumored to have had one. Check out the before and after photos here.
Her nose actually seems to have gotten bigger! If she did have surgery on it, it would of either had to have failed massively (and been in the news) or she was the first person in history to increase the size of her nose!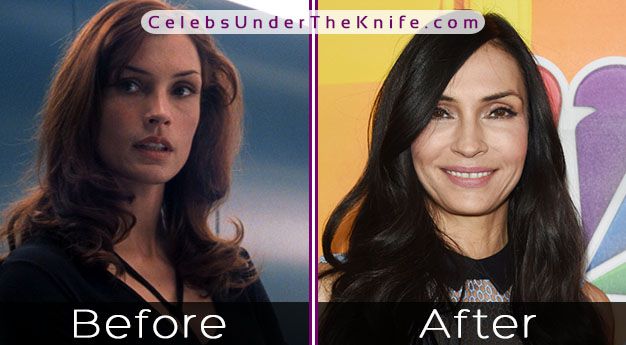 Here, take a look at this later. Did you know the nose is one of the only body parts on us humans which never stops growing?!
This seems to coincide perfectly with Famke's nose – it's gotten bigger. It's unbelievably clear the overall width has increased over her acting career.
Now, we aren't saying it's a bad thing – just a sign to indicate she's stayed far, far away from the hands of a skilled surgeon.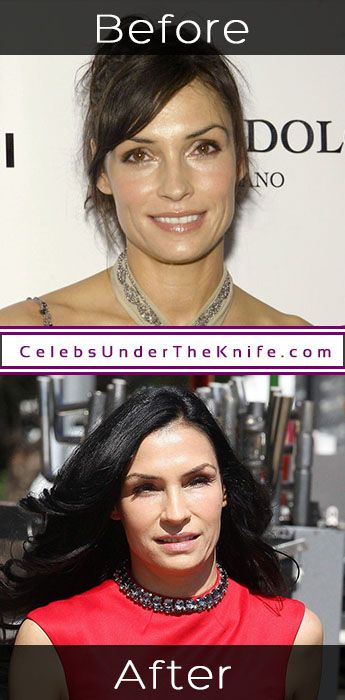 No on the nose job – any other procedures?
Alrighty – so it's pretty clear there's no way Famke's had a nose job. But what about another type of procedure?
In particular, we're talking about any of the following:
Breast augmentation (boob job)
Liposuction
Eyelid surgery
Tummy tuck, or
Facelift
Why those in particular? They were the most popular plastic surgery procedures for Americans in 2015.
If you were wondering – the difference between liposuction and a tummy tuck is Liposuction sucks out the actual fat around the belly, whereas a tummy tuck's goal is to remove the excess skin remaining.
Back on track – Famke.
Sorry to say, but again:
---
There are no indications in any of the photos we've looked at to suggest Famke's had any kind of surgery.
---
Really! Tell us in the comments if you still think we're wrong, but we just don't see it.
She even came out recently and stated her secret to the questionable lacking of physical aging is simply not drinking from plastic bottles. And of course, following her strict vegan diet.
Hey – if it works, it works.
Famke's 22-Year Body Transformation
As mentioned, there's absolutely no evidence of Famke having a nose job, or any other kind of surgery for that matter.
So with that out of the way, let's have a bit of fun shall we?
This is a section you'll find throughout of all the stars we take a look at. Basically – we put together a timeline of the person from as early as we can, to as late as we can.
This way, you're able to see just how much they've physically changed over the years.
It's also a great way to spot any sudden massive changes in either the face or body (usually a sign of plastic surgery).
Oh snap – we forget to mention. You know Bernadette from The Big Bang Theory? Melissa Rauch is the woman who plays her – and it's rumored she's had breast reduction surgery! Check out all the pics here.
1995
We're heading way back to the golden age of the 90s, or shall we say the GoldenEye age!
Get it?!
Because one of Famke's movies for this year was in James Bond's – GoldenEye! Ok we'll stop now.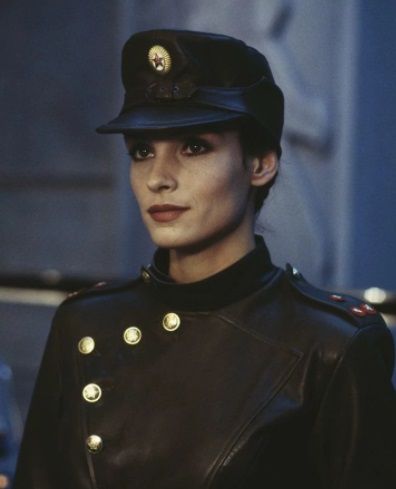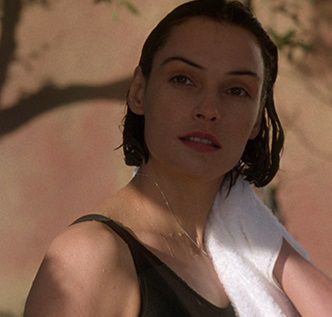 2000
Jump forward half a decade and Famke has landed one of her most important roles for the development of her career in the Hollywood industry – X-Men.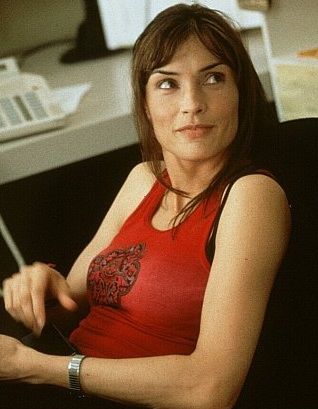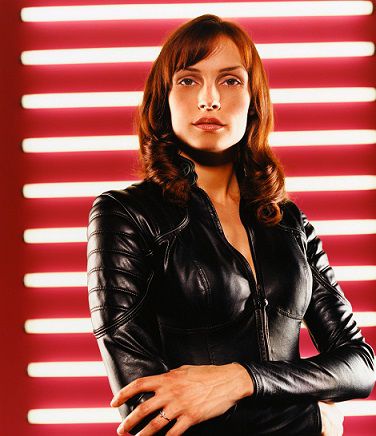 2002
Did you know she had a role in I Spy as well? Neither did we!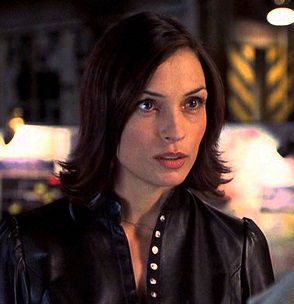 2003
Likely one of the characters most of the world knows her by – Jean Grey. The redheaded goddess with unstoppable powers in the X-Men universe.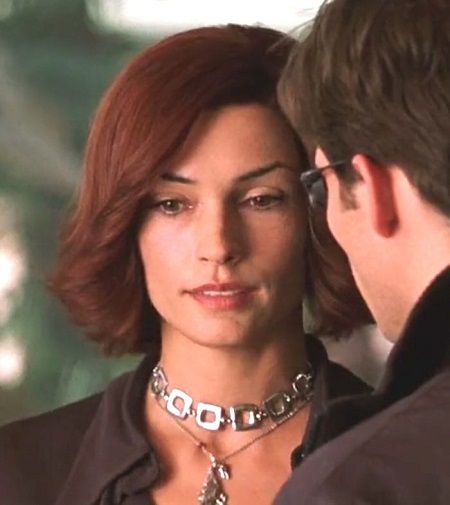 2007
Damn – look at that smile. How could anyone ever call it unnatural? That smile has gotta be more contagious than ebola! Too far?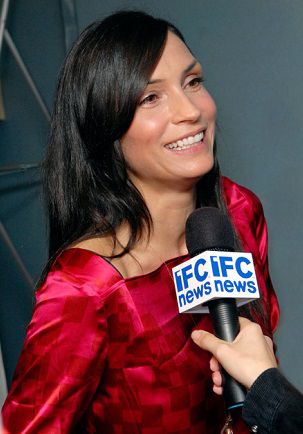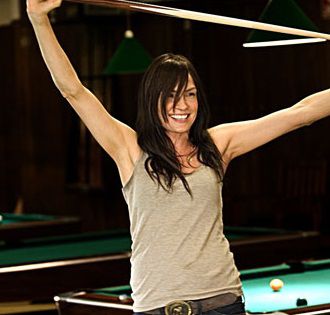 2010
Adopting the brunette color for life from now on out. We quite liked the red, even if it was just for a movie.
But she's more than grownup enough to decide what she does with her body (and that includes saying no to plastic surgery).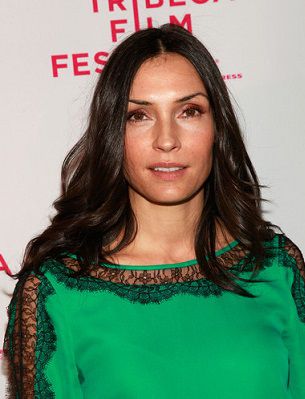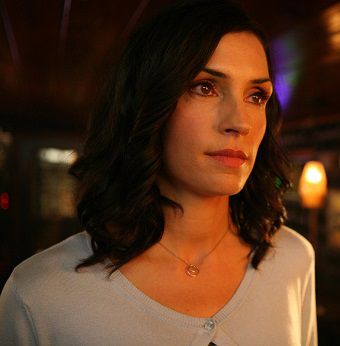 2014
Last shot of the gorgeous red locks. Take it all in because you won't be seeing them again. Unless you scroll up of course.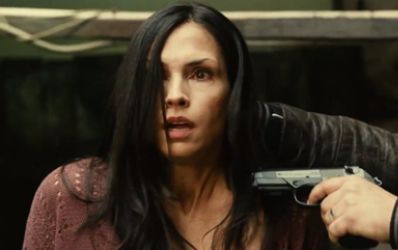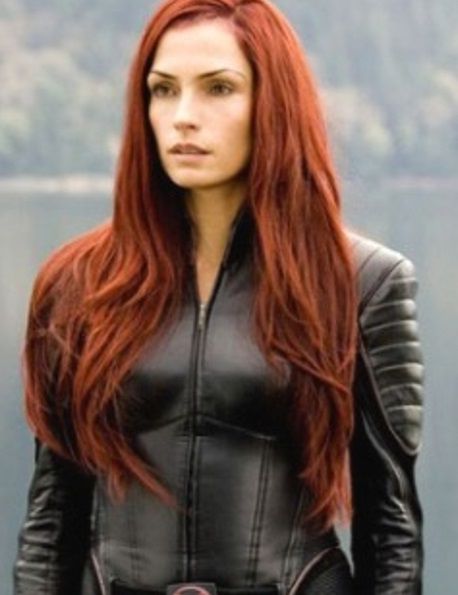 2016
If you looked up lovely long legs in the dictionary dedicated to Famke Janssen, this photo would come up.
And she knows it because she often walks around the streets of Manhattan courgeously showing the world her assets.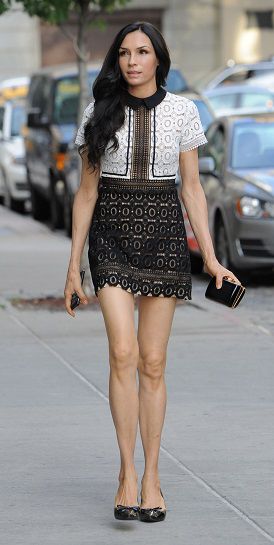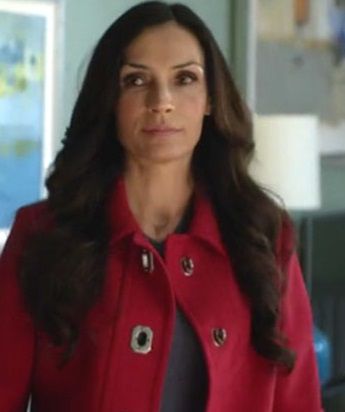 2017
She doesn't have any social media account (we know – WTF!). So the best place to keep up with her latest news is on her IMDB page.
Famke's still acting in plenty of movies. Two movies coming out soon including American Undercover (2017) and Status Update (2017).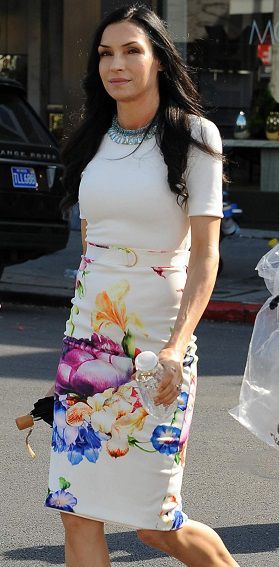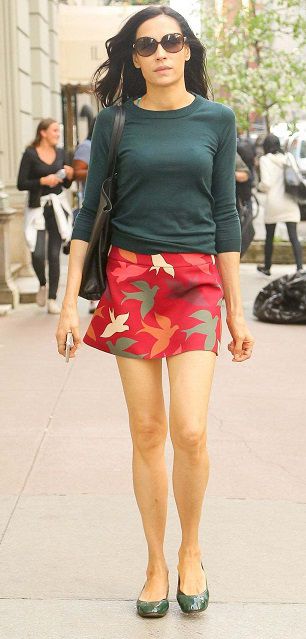 Plastic Surgery Information
The table below contains information on everything from botox to boob job! Check out the status of all Famke Janssen's plastic surgeries!