Melanie Griffith Plastic Surgery Photos Before After
Introduction
Melanie Griffith is an American actress who's been starring in movies and TV shows since 1969! That means she's been in the Hollywood industry for nearly 50 years now. Incredible stuff. Of course, we all know you can't last that long in the industry without some adverse effects on your mental health.
She's starred in films such as Working Girl (1988),  Lolita (1997), Automata (2014), and The Disaster Artist (2017). A few TV shows include Hawaii Five-0 (2014-2016), DTLA (2012), and Nip/Tuck (2010). Can you guess the reason she was on the last one? Yep, plastic surgery.
Unfortunately, Melanie has bowed to the pressures of consistently appearing on the screens in front of us and gone under the knife multiple times for cosmetic surgery and other procedures. Just recently, she's announced she's come to the realization she may have gone a bit overboard with the surgeon visits.
In a recent interview with Porter Magazine, she stated the following regarding her surgeries over the years:
"I didn't [realise] until people started saying, 'Oh my God, what has she done?!' I was so hurt I went to a different doctor and he started dissolving all of this sh*t that this other woman doctor had put in, hopefully I look more normal now."
Fun fact: Melanie Griffith was married to Antonio Banderas from 1996 until 2015.
Melanie has around 256k followers on Instagram and 135k over on her Twitter account.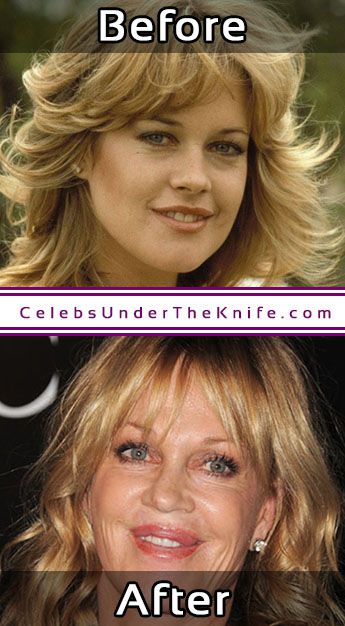 ---
Has Melanie Griffith Had Plastic Surgery?
ARE THE PHOTOS REAL? Has Melanie Griffith truly gone under the knife? TELL US in the comments!
---
Plastic Surgery Information
The table below contains information on everything from botox to boob job! Check out the status of all Melanie Griffith's plastic surgeries!