5 Terrifying Plastic Surgery Before After Photos
Introduction
We've previously featured some disastrous attempts at plastic surgery on the site before, but we knew there were more out there so we're back!
Today, we're coming at you with 5 of the most terrifying plastic surgery results we've ever seen. Your mind will be blown, your eyes won't believe themselves, and your heart with question life itself.
Sit back, prepare yourself, and take a stroll down the lift below. You have been warned.
---
5 – Jackie Stallone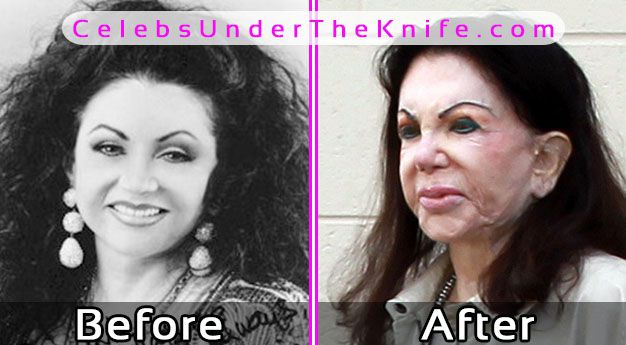 My oh my, Jackie Stallone. Does the name sound familiar? It should. This lady is the mother of the world-famous actor – Sylvester Stallone. Jackie, however, was never much of a world-class actor herself. Although, she did appear on a few TV shows such as The Howard Stern Show in 1992 as well as UK Celebrity Big Bother in 2005.
Besides that, though, Jackie is far more known for her work as an Astrologer. Astrology is the study of the positions of stars determining what happens in your life, think star signs and horoscope readings.
Jackie has three children, of which two are alive following her daughter's death in 2012. She's had numerous husbands including Frank Stallone, Anthony Filiti, and her current spouse, Stephen Marcus Levine.
As you can tell from the before and after pictures of Jackie, she's been under heavy scrutiny from both the media and her followers due to her plastic surgeries. Of which many clearly didn't go as planned.
To hammer the nail in the coffin, Jackie even calls herself botched. She's earned herself the number 5 position on this list comfortably.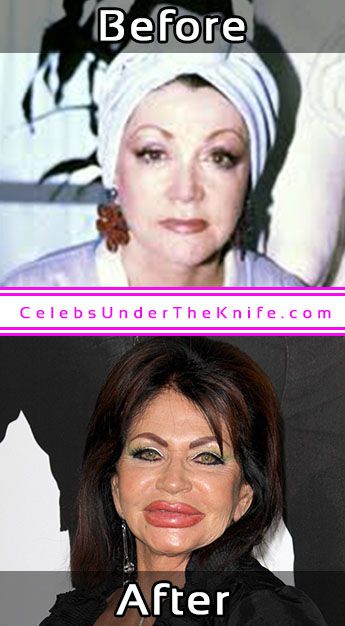 ---
4 – Erik Sprague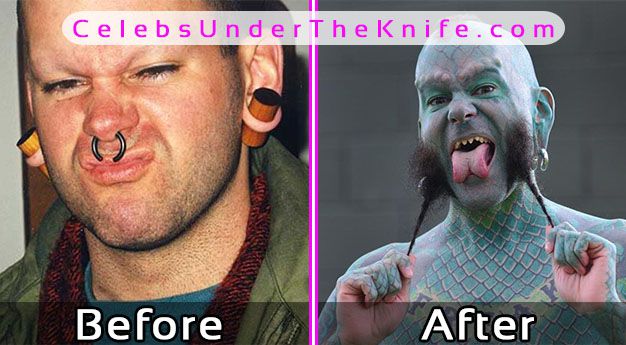 Erik Sprague probably has the most appropriate nickname a person could ever have. Can you guess what he's called from the after photos? The Lizardman!
Even if you Google Erik Sprague, the first result in the search engine is a Wikipedia page of the Lizardman himself. So, how did Erik turn himself into a normal dude with a few odd piercings into one of the strangest looking men to walk the earth?
Erik was born in Fort Campbell, KY and holds a degree is Philosophy and was even a candidate for Ph. D. at the University of Albany. Unfortunately, the Ph. D. never came to fruition as it was at this point when he started his transformation.
He's had a wide range of cosmetic surgery to achieve the results you can see in the images. Some of them include sharpened teeth, full-body tattoos of green scales, cut-in-half tongue, green-inked lips, and subdermal implants.
As you probably guessed, the Lizardman earns his living as a self-titled freak. Appearing on TV shows, and classic sideshow acts with a variety of organizations. There's even a life-size statue of him in Ripley's Believe It or Not museums around the world.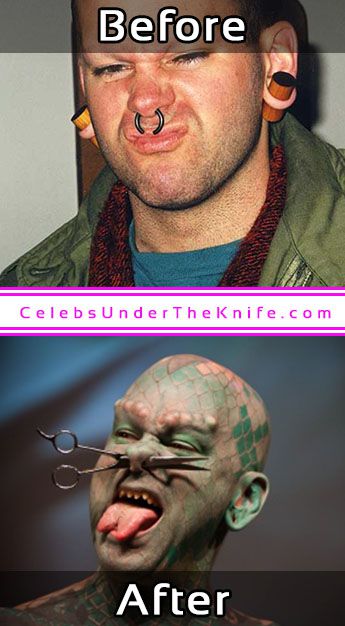 ---
3 – Pete Burns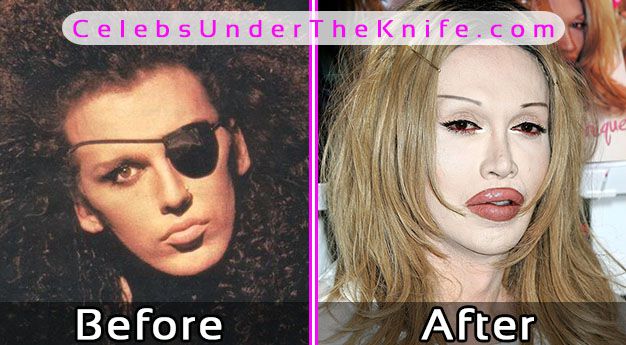 Legally named, Peter Jozzeppi Burns, the singer-songwriter conveniently went by the far-easier-to-remember name, Pete Burns. Born in England, Pete was the founder of the band Dead or Alive which came together in 1980.
Their biggest hit, which we're absolutely sure you've heard, was You Spin Me Round (Live a Record). Following the one-hit-wonder, Pete went on to further his celebrity status by appearing on UK Celebrity Big Brother 4 (he came 5th).
Burns further appeared on a number of TV shows including Celebrity Wife Swap and Liquid News in which he voiced his views on the Michael Jackson trial.
As you can see from the photos, Pete Burns has gone under the knife for plastic surgery many times during his life. In which he openly admits and reaffirms in decisions in doing so. Hey, if you can do it, be confident in your decision, and live with it, props to you1
Pete Burns, unfortunately, recently passed away in October 2016. The cause of death was a massive cardiac arrest. It was just four days before his current band was to released a special new album.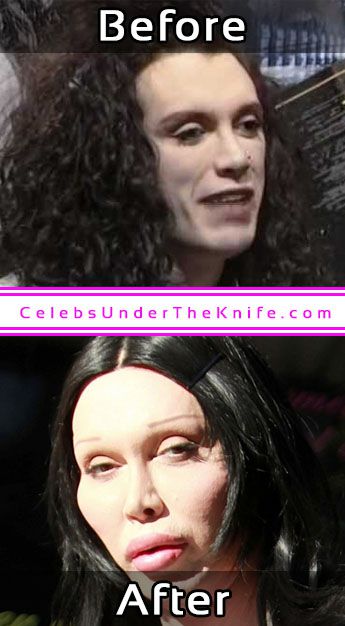 ---
2 – Dennis Avner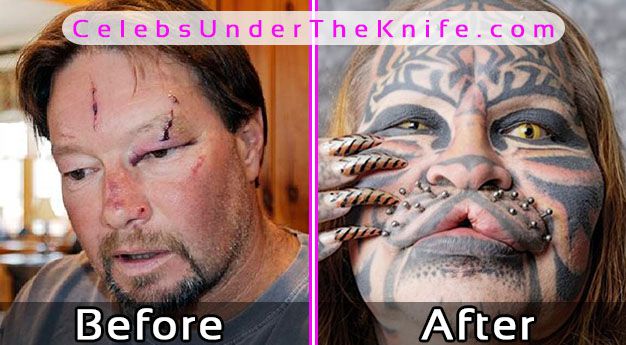 Born on August 27, 1958, Dennis Avner, affectionately known as the Stalking Cat, was an American man who underwent extensive body modifications in order to make himself look like a tiger. How did he get the name? It was given to him when he was a young boy from a medicine man in his tribe.
Avner served in the Navy as a sonar technician until he left his post in 1981. From there, he began working as a computer programmer over in California. It wasn't until a bit later on in the 80s, when the cosmetic procedures started.
Altogether, Avner went under the knife a total of 14 times during his life. Which gained him the world record title of "Most Permanent Transformations To Look Like An Animal". We're not sure why anyone would be pleased with holding that record.
Some of his procedures included extensive tattooing across his body, filing and capping his teeth, splitting his upper lip, re-shaping his ears to be more pointy, surgically altering his hairline and injections into his lips, cheeks, chin, and more. That's one hell of a rap sheet.
Unfortunately, as with Pete Burns, Avner succumb to the pressures of life and committed suicide in 2012,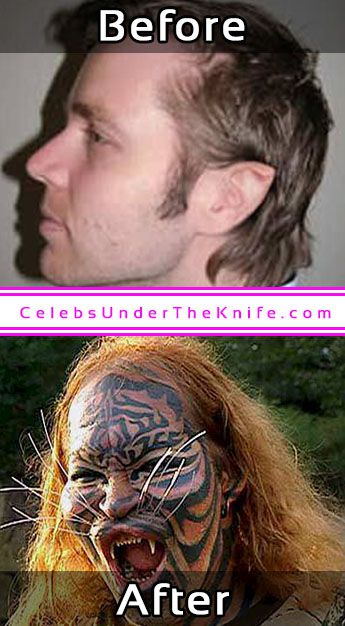 ---
1 – Hang Mioku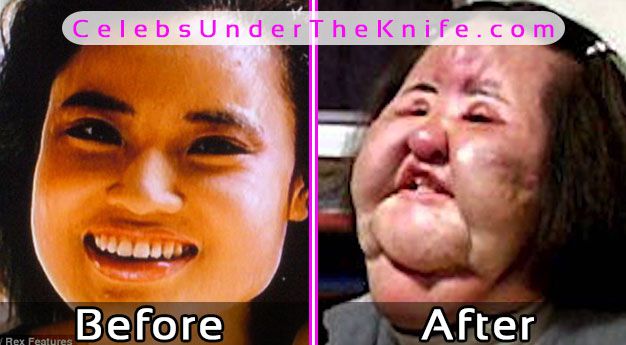 It was hard to put together the images for this one. By far, one of the worst attempts of plastic surgery we've ever seen here at CelebsUnderTheKnife.
Hang Mioku, a Korean woman born in 1963 started our her life just like everyone else. In a normal setting, going on to become a model and a singer. Unfortunately, it all took a turn for the worse when she was introduced to the wonders (disasters) of plastic surgery.
She went under the knife for the first time when she was a young 28 years of age. From that point, she was hooked. She moved to Japan and underwent more and more procedures to alter her face.
Eventually, as any surgeon in their right mind would do, they refused to perform any more operations. So what did Hang Mioku do? She took her face into her own hands, literally. Hand became obsessed with plastic surgery.
After moving back home to visit her parents (they didn't even recognize her), she managed to find another surgeon willing to operate. This time, however, the doctor simply handed her the silicone and let her inject herself. And she did. Over and over.
When she finally ran out of silicone, she turned to using cooking oil. Yes, Hang Mioku was so obsessed with plastic surgery, she injected cooking oil into her face.
After garnering national attention in Korea, many people sent in donations to help her have the surgeries reversed. Thankfully, she used the money wisely and proceeded with the reversals. Unfortunately for her, even with much of the foreign substances removed, there were vast scarring and disfiguration still left on her face.
There have been many speculations Hang had serious mental and psychological issues which caused her to become addicted to plastic surgery. Nevertheless, she sits on top of the most terrifying plastic surgery photos ever.
Plastic Surgery Information
The table below contains information on everything from botox to boob job! Check out the status of all plastic surgeries!