Vinny Ohh ALIEN Plastic Surgery Before After Photos
Introduction
Vinny Ohh – a 22-year-old makeup artist from Los Angeles has shot into stardom literally overnight. He's claimed to have spent over $50,000 already on various plastic surgery procedures including many nose jobs and lip injections.
Not only that, he's stated he's willing to fork out over $150,000 to remove other areas of his body. He wants to rid himself of this genitals, nipple, and belly button. Why, you ask? We don't bloody know.
But Vinny has stated the reason for all this craziness is because he simply wants to become a genderless alien. That's not too much to ask for now, is it?
Vinny has appeared in an episode of the famous Botched – in which two doctors help patients whose plastic surgery has gone terribly wrong. However, it seems like Vinny knows exactly what he's doing and how to get what he wants.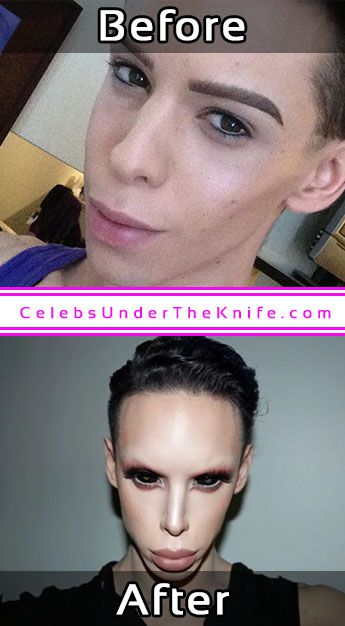 ---
What do you think of Vinny Ohh's plastic surgery?
Is Vinny taking it too far? Is he not taking it far enough?! Let us know what you think in the comments below.
---
Plastic Surgery Information
The table below contains information on everything from botox to boob job! Check out the status of all Vinny Ohh's plastic surgeries!