Jennifer Grey Nose Job – Photos Before & After Plastic Surgery
Introduction
Jennifer Grey is one wildly famous actress. She doesn't appear in too many movies and TV shows anymore, but in her prime, she was only in the best. A few of the internationally known movies Grey's appeared in include Dirty Dancing (1987), Ferris Bueller's Day Off (1986), Road to Christman (2006), and Bounce (2000). With all this time in the Hollywood spotlight, we hardly wonder why Jennifer Grey ended up getting a nose job.
Plastic surgery is rampant in the movie and TV industry due to the simple fact your appearance plays a major part in your success. Unfortunately, Jennifer Grey was unable to resist and bowed to the pressures of cosmetic surgery.
Jennifer Grey's nose job made international news one it was announced she'd received one. Her nose was one of her defining features, allowing her to stand out from the rest of the crowd in the movie scene. Now, all we can do is compare her before and after photos and dream about what once was.
There are a few different dates mentioned as to when Jennifer Grey got her nose job. However, the many come to the same conclusion she underwent the operation in 1989. And she was to immediately regret the decision.
Jennifer stated the following after her procedure:
I went into the ­operating room a ­celebrity and came out anonymous.
Suggesting the fact she, too, knew her nose one one of her defining features which may have assisted in her current success. She went on to further say:
It was the nose job from hell. I'll always be this once-famous actress nobody ­recognizes because of a nose job.
From her response, we can clearly see Jennifer is maybe considering her nose job was a mistake after all. From her social media pages, many of her fans are starting to agree with her as well. And she is quite popular on social media as well – 87,000 fans on Facebook, 116,000 followers on Twitter, and another 52,000 followers on her Instagram page.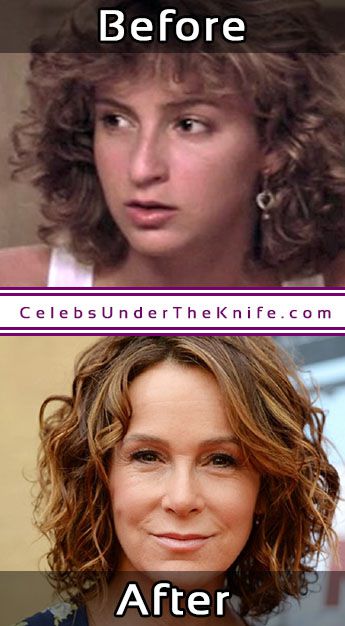 A nose job is a colloquial term for Rhinoplasty (link) – which is basically surgery to reshape and alter the structure or physical appearance of the nose. Most of the time it's for purely cosmetic reasons, but there are occasions where it can be required for a medical situation.
Nose jobs are an unbelievably popular cosmetic procedure in America. They hold the number two position in the most performed cosmetic procedures in America during 2016 – with over 223,000 procedures undertaken. 90% of these patients going under the knife were women.
As you can see, Jennifer Grey was all aboard the Rhinoplasty train far before the rest of America's population were able to catch up. So what do you think?
How does Jennifer look in the before and after pictures of her nose job? We can clearly see there is a completely structural change in the tip of the nose, allowing us to clearly comprehend the effects of her surgery, in particular.
But the real question is – does Jennifer look better or worse before the surgery?
---
Has Jennifer Grey Had Plastic Surgery?
Of course, she has! Let us know in the comments below whether you think Jennifer Grey's nose job was worth it or not.
---
Plastic Surgery Information
The table below contains information on everything from botox to boob job! Check out the status of all Jennifer Grey's plastic surgeries!