Debby Ryan Plastic Surgery Photos – Before + After
Introduction
Debby Ryan – officially known as Deborah Ann "Debby" Ryan – is an American actress and singer born in 1993. She's been active in the Hollywood industry since she was just 13 years old, and it makes us wonder whether the pressures of appearing in front of so many people have influenced whether Debby's had plastic surgery or not.
Debby has starred in a multitude of movies and TV shows over the years including Jessie (2011-2015), Sing It! (2016), Ultimate Spider-Man (2014), and Cover Versions set for release later in 2017. Not to mention she starred in the film 16 Wishies (2010) – which was the highest viewed show on the day of its premiere.
Her social media profiles are bursting at the seams with fans. Her Instagram account boasts a massive 7.1 million followers, Twitter with 4.2 million followers, and her Facebook page sitting comfortably at the head of the table with 8.5 million fans. She also has a Myspace page! Can you believe it! Which is currently connected with around 46k fans.
She's been active in the music industry since 2011 and has released a number of singles and albums. Debby has also starred in numerous music videos from 2010 onwards. All of this time spent in the limelight of the world and it's young teenage girls, may have let to high pressure on Debby to maintain her appearance through alternative practices. In particular, going under the knife and paying a few visits to the doctors for some plastic surgery operations.
What do you make of the before and after photos of Debby's alleged surgery? There are some signs of a nose job and botox injections in and around the forehead, as well as minor alterations in her jaw line which may also indicate some sort of operation.
Plastic surgery or not, we think Debby Ryan should keep doing what she's doing! If you're interested in checking out her personal website, you can visit it here.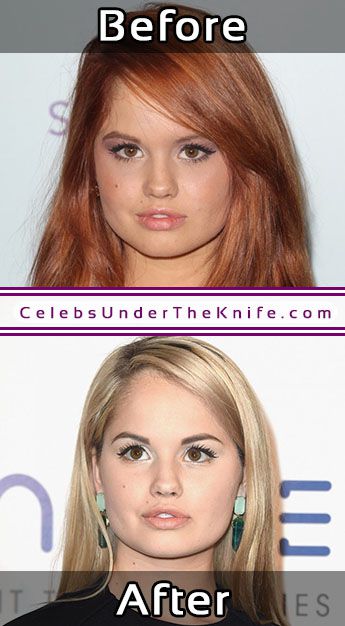 ---
Has Debby Ryan Had Plastic Surgery?
DO YOU BELIEVE THE PHOTOS? Has Debby Ryan had plastic surgery or not? Tell us in the comments.
---
Plastic Surgery Information
The table below contains information on everything from botox to boob job! Check out the status of all Debby Ryan's plastic surgeries!