Ivanka Trump Plastic Surgery? Before After Pics
Introduction
As the US presidency continues to be a worldwide news story following Donald Trump's consistent antics and recklessness, we thought we'd take a look to see if he or his family had gone under the knife at any point in their life. And they have! Check out the before and after photos of Ivanka Trump's plastic surgery above and below.
If you can look us in the eyes and tell us Ivanka clearly hasn't received a nose job, we'd still tell you you were lying. Check out the width on both the before photos, then flick your eyes over to the after. Ivanka's nose had reduced in size quite drastically.
Not only is she the daughter of the current US President, Donald Trump, Ivanka is also quite active in her personal life. She's had various roles involving modelling, television shows, writing, and even directly in business.
Ivanka doesn't have a huge social media following, only consisting of around 100,000 people or so. But it's more than enough to launch her numerous fashion labels.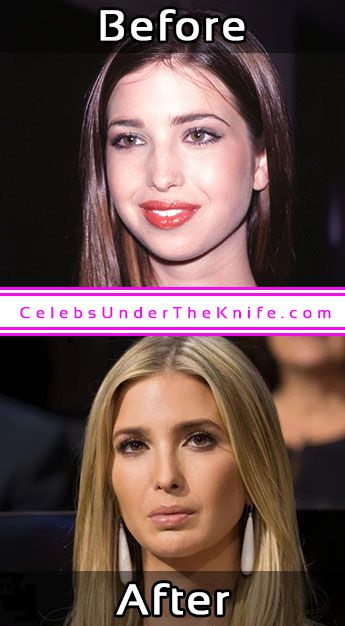 ---
Has Ivanka Trump Had Plastic Surgery?
Do you really believe Ivanka Trump has received plastic surgery? Reply to us in the comments below.
---
Plastic Surgery Information
The table below contains information on everything from botox to boob job! Check out the status of all Ivanka Trump's plastic surgeries!