Eva Marie Nose Job – WWE Star's Plastic Surgery (Before + After Photos)
Introduction
One of the absolute biggest divas of the WWE scene, Eva Marie may just be one of the most famous female wrestlers in the world at the moment. But as fame and fortune come, so does all the pressures of the vast amount of eyes consistently looking at your brings. As this pressure can be too great for some – leading them to alter the way they look through surgical procedures. As such, there have been recent allegations about whether Eva Marie has had a nose job or not.
Born on September 189, 1984, Eva isn't only a wrestler, no. She's also an actress, fitness model, and manages other wrestlers in the industry as well. After signing the contract and joining the WWE in 2013, she began her training and debuted in her first match later in the year. Eva currently also stars in the long-running TV series – Total Divas. The show depicts the lives of WWE divas and how they combine work and their relationships.
Eva is just one of the divas in the WWE scene who has drastically changed their appearance over the course of their career – both structurally and permanently. Her first plastic surgery procedure occurred in 2004 when she was just 20 years old.  Can you guess what is was? Nope! It wasn't the nose job – it was the classic breast implants. Unfortunately, nearly a decade later, during an episode of Total Divas – one of her implants ruptured.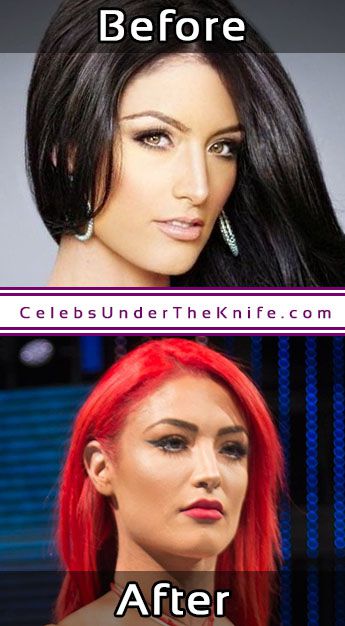 A ruptured implant can be extremely serious in nature or not that bad. In this case, the rupture was causing the silicone to leak into her bloodstream – not good at all. She went to visit the doctor's who advised she required immediate surgery and new implants. Which she did, and it was successful.
Of course, we aren't here to talk about her breast implants. We're here to talk about Eva's nose job – and whether it's true or not. Many sources around the web tend to agree with the fact she has gone under the knife for Rhinoplasty – which we agree with. The changes in her nose structure in the before and after photos are simply too evident of unnatural changes (surgery).
Eva's nose has clearly gone from a clearly unevenly shaped, wider looking nose, to a slim, narrow, and a near perfectly structured nose. If you don't agree that Eva's had a nose job – let us know why in the comments!
If you're interested in learning a bit more about Eva, she recently started her own fashion label in 2016 – NEM Fashion. The brand stocks a range of items including tops, dresses, bodysuits, sunnies, leggings, skirts, and a range of others.
The about page explains the creation of the brand as the following:
NEM fashion is a brand that is created and inspired by empowered women, for empowered women. We often see so much negativity in our current society, and Natalie Eva Marie and Janet Tran has decided to create a brand that not only helps women look and feel like their best selves but also a brand that gives back to women in need through the NEM foundation.
We find it ironic Eva talks about empowering women when her own self-confidence couldn't stand up to the pressures of plastic surgery!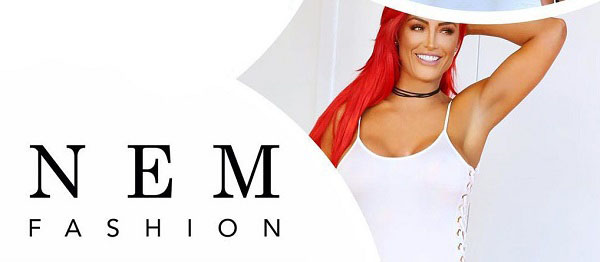 ---
Has Eva Marie Had Plastic Surgery?
TELL US IN THE COMMENTS if you believe the before and after photos of Eva Marie's alleged nose job above!
---
Plastic Surgery Information
The table below contains information on everything from botox to boob job! Check out the status of all Eva Marie's plastic surgeries!