Eiza Gonzalez Plastic Surgery: Before and After Her Nose Job
It is no secret Eiza Gonzalez went under the knife to enhance her appearance. Of course, the actor wants to look her best, just like most of us. Learn all about Eiza Gonzalez's nose job plastic surgery.
Introduction
Eiza was born January 30, 1990 in Caborca, Mexico. Her mother is a former Mexican model, Glenda Reyna. So it's no surprise that Eiza inherited her beauty. Gonzales suffers from Attention Deficit Disorder. In 2013, young Eiza moved to Los Angeles and started dating actor Liam Hemswort. While the couple broke up, her career really speed up in Californian movie hub. She's now starring as Santanico Pandemonium on horror TV series From Dusk till Dawn.
Plastic Surgery Information
In a 2011 interview, Eiza Gonzalez openly admitted to getting a nose job. "There was no medical reason for the procedure," reports Us Weekly; "she said she just didn't like the way she looked."
The table below contains information on everything from botox to boob job! Check out the status of all Eiza Gonzalez's plastic surgeries!
Plastic Surgery Pictures
Check out these pictures of Eiza Gonzalez. Is there any plastic surgery involved?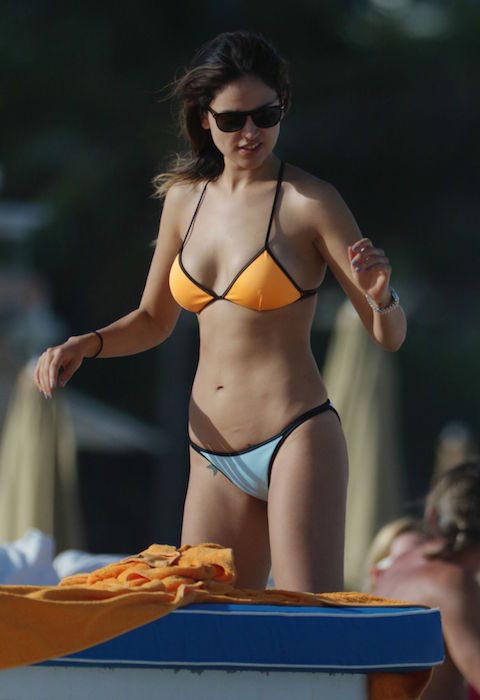 Eiza Gonzalez Inspirational Quotes
"I always say that what's between you and your success is yourself."

Eiza Gonzalez
"I use a lot of sunblock, which is something I learned from my mother at a young age - to stay out of the sun and be careful of skin cancer. We live in a time where global warming is at its maximum level. The ozone is destroyed, and our skin is exposed to sunbeams on a daily basis."

Eiza Gonzalez
"Never suntan! Ten minutes in the sun on a daily basis is good to get vitamin D, but sun tanning is terrible for your skin. It dehydrates your skin, creates sunspots, and can give you skin cancer."

Eiza Gonzalez
"When my father passed away, my mom didn't really know what to do and how to deal with it for me, so she put me in extracurricular classes, one of them being theater."

Eiza Gonzalez
"I love being Latina. I love our values, the way we're so in touch with others, our dark humor, how fun we are, how relaxed we are. I love how hard working, independent, and ambitious we are."

Eiza Gonzalez